Basil plant is a culinary herb which belongs to the mint family found in tropical regions from central Africa to South East Asia used in cooking, several rituals, and Ayurvedic medicines. It is also known as great basil, Saint Joseph's wort, and tulsi.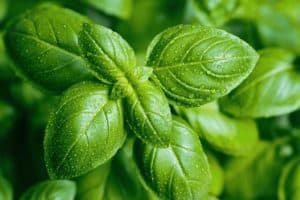 The leaves of this plant have a strong, pungent, often sweet smell but it commonly used as a flavor is sweet basil. It is most commonly used fresh in recipes and added at the last moment because cooking may destroy its flavor. It can be stored in the fridge for a short period while for an extended period it can be stored in the freezer.
Types of basil:
· Sweet basil
· Lemon basil
· Italian basil
· Curly basil
· Holy basil
· Thai basil
· Lettuce-leaf basil
How to grow Basil Plant and Care it?
Basil is an annual plant that is sensitive to cold but best growth in a hot and dry climate. Although it grows best outdoors, it can be grown indoors as well like other herbs. It should be kept away from a cold area and placed in the sun-facing windowsill. It grows best in strong sunlight.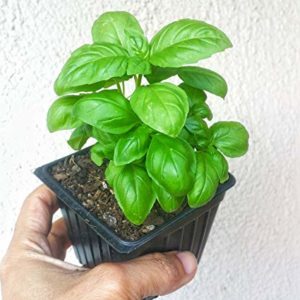 To plant basil, the soil must be 50 degrees, moist and well-drained for the best growth. Without heat, the plant will not grow. For the plantation, the seeds/seedlings must be a ¼ inch deep and 10 to 12 inches apart. They should grow about 12 to 24 inches in height. During the dry periods in summer, plants should be watered freely. It should be observed whether the leaves would grow continuously or not. So, when it is observed that it will continue, the flower head should be pinched.
After the seedlings have their first six leaves in a branch, they should be cut back.
After six weeks, the center should be pinched off to prevent early flowering. Likewise, if the weather is going to be cold, then it should be harvested because cold weather will destroy your plants.
As soon as the plant is six to eight inches tall, leaves should be picked up. The leaves should be regularly picked up to encourage growth throughout the summer.
For the storage, the basil can be stored in the freezer and dried as well. Freezing will prevent from losing its flavor while drying will not. To quick-freeze basil, whole sprigs of basil should be dried and packed them in airtight plastic bags and placed in the freezer. Similarly, under the drying method of storage, the leaves should be pinched off at the stem and placed in a well-ventilated shady area. After the plant is dehydrated, the leaves should be placed in the oven on the lowest heat for complete dry.
Health Benefits of Basil:
There are various benefits associated with basil. It contains the full range of essential oils, and other natural products including polyphenols such as flavonoids and anthocyanin, and (E)-beta-caryophyllene (BCP) found in basil helps in treating arthritis and inflammatory bowel diseases. Basil also helps in preventing several types of cancer like skin, liver, oral, and lungs.
Basil also helps to cure oxidative stress, reduce inflammation and swelling, and prevent damage caused by some free radicals in the liver, brain, and heart. Likewise, other benefits of basil are anti-inflammatory, antioxidant, reduces pain, reduces fever, prevents diabetes, protects the liver, protects the blood vessels, fights against depression, promotes cardiovascular health, and boosts the immune system.
Possible side effects of Basil
Basil is possibly healthy and beneficial. It is also regarded as safe when taken by mouth as medicine in the short term but not in the long run. Also, in some people, it can cause low blood sugar and low blood pressure. It is also likely safe for children, pregnant and breastfeeding woman in food amounts but more substantial medicinal amounts are unsafe. Likewise, consumption of holy basil by mouth might cause diarrhea also.