Among different varieties of herbs, basil is one of the popular herbs that adds delicate flavour. If there isn't anything to grow, then grow basil. Buying basil from shop adds up in cost, but instead, you can grow in your home. This article will be covering different food recipe with basil that you can try at your home.

Basil and food recipe with basil

Basil is a highly fragrant plant which is used as a seasoning herb. It is a potent anti-bacterial having inflammatory qualities. Whether you're garnishing a bowl of tomato soup or making pesto, or grooming salad, basil is a vital ingredient in cooking. It has a leafy green colour and grows up all season round. It is the herb which was originated in Asia and Africa. The scientific name of Basil is Ocimum basilicum.
Fresh leaves of basil can add flavor to your dishes. And if you don't have fresh one, then dried basil can also substitute for the fresh ones. You need to make sure of using the correct amount of basil in your recipes. Two tablespoons of fresh Basil is equal to one tablespoon of dried basil. If you are making raw dishes like salads, then use fresh basil. They add freshness to the dishes. And dried Basils are used if you're making sauce or soup.
Varieties of Basil
Sweet Basil
The most popular one is sweet basil.

Mostly Italian dishes use it.

People widely grow sweet basil, and it has maximum uses in Italian dishes.

Generally, dry basils are sold. It grows up to 2 feet high.
Thai Basil
Thai Basil is widely used in Thai dishes.

It has an anise-licorice flavor.
Cinnamon basil
It has cinnamon-like flavour and scent.

It is mostly served with spicy or fried vegetables.
Greek Basil
Greek Basil is also known as Bush basil, having a mild flavor.

As its name is bush, it forms a compact shrub having small leaves, and people grow this basil in a pot.

It also acts as a substitute for sweet basil.
Lettuce basil
It has large, soft and wrinkled leaves.

It is generally served in salads.
Different food recipe with basil

Salad with Basil
In summer, everyone's favourite side dish is the salad. Having a salad is good for your health. Foods like cucumbers, tomatoes, basil, onion make your salad even better. Cucumbers are low-calorie veggies having hydrating properties. Being a wealth of vitamins and minerals, adding tomatoes to your dish provides more nutrition. Likewise, onions are also high in vitamins, minerals, and they act as antioxidants. It takes about 5 minutes to prepare this dish.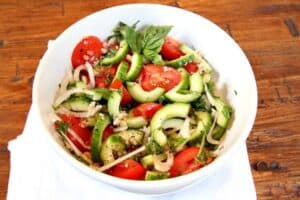 Ingredients
Small pieces cucumber

Sliced tomatoes

½ onion cut into pieces

Basil leaves

One tablespoon olive oil

Salt and pepper
Cucumber, tomatoes, onions and basil leaves need to be adequately washed before slicing it. You can also add avocado and cheese in it.
Steps to make it
First of all, gather all the ingredients.

Put the ingredients like sliced cucumber, sliced tomato, basil leaves, and onions in a bowl.

Add olive oil into it.

Add salt and pepper as per your taste.

Mix all the ingredients properly.

Serve immediately, and enjoy.
Tomato sauce with basil
With basil, delicious tomato sauce is made. Ingredients like tomatoes, onions, and garlic are rich in vitamins, and they add intense flavour to the dish. It takes about 20 minutes to prepare this dish.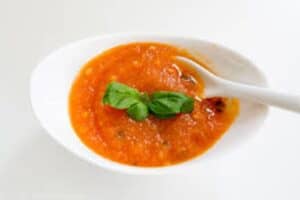 Ingredients
Chopped tomatoes

Fresh and dried Basil

One large onion, chopped

Two garlic clove, minced

Olive oil

Salt and pepper

You can also add tomato puree if you want.
Steps to make it
In a medium pan, add one tablespoon of olive oil, add minced garlic and chopped onions.

Gently fry until the onions turn a golden brown colour.

In a large pan, firstly add chopped tomatoes, dried basil leaves and a half cup of water. Over medium heat, cook these ingredients.

Add fried onion and garlic mixture to tomato mixture, and add salt and pepper as per your taste.

Reduce the heat, and let it simmer for 3-5 minutes until thick, stirring occasionally.

Transfer the dish into a bowl and add fresh chopped basil for the decoration.
Enjoy the above-defined food recipe with basil. You will love them.
Health benefits
Sweet Basil reduces depression and memory loss.

It improves blood sugar, cholesterol.

It acts as a repellent for insects such as mosquitoes, bugs, and ticks.

Prevents diseases like cancer, as basil extraction can treat cancer.

It reduces inflammation and swelling.

Basil tea helps to relieve nausea, and it has mild antiseptic functions.

It has anti-bacterial properties so restricts the growth of numerous bacteria.

Basil leaves contain health benefiting essential oils that possess anti-inflammatory and anti-bacterial properties.

It contains compounds that fight the effects of ageing.

Basil promotes blood flow as it is a good source of magnesium.

It also encourages healthy eyesight as it is a good source of Vitamin A.
Basil leaves do not taste good, but they are good for your health. Basil is an excellent source of vitamin A, vitamin C, vitamin K, manganese, and iron. It is also a good source of calcium, magnesium, and Omega-3 fatty acids.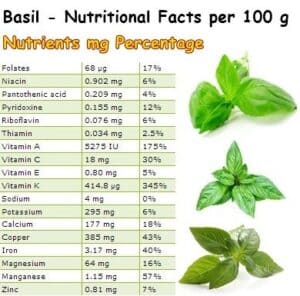 Uses of basil
It is one of the primary ingredients in the salad, tomato sauce, soup, and pesto sauce. Pesto is a creamy, green sauce made from crushed fresh basil leaves, garlic, parmesan cheese, olive oil, and pine nuts.

Ayurvedic medicine uses it for the treatment of various diseases like blood sugar, cholesterol, and cancer.

In foods, it is used for flavour and seasoning.

Basil also complements other herbs and spices such as garlic, pepper, marjoram, mustard, oregano, paprika, and parsley.