Calamondin orange is an economically-important citrus hybrid, belonging to the citrus genus, predominantly native to the Philippines and surrounding areas in Southern China, Taiwan, Borneo, and Sulawesi. It is also renowned as Citrus microcarpa, Citrofortunella microcarpa, Philippine lime, Citrofortunella mitis, and calamansi. Calamondin is a shrub or small tree that grows to 3 to 6 m (9.8 to 19.7 feet). It has more familiar names such as calamansi orange, calamonding, Calamondin orange, bitter-sweets, calamandarin, musk orange, golden lime, Panama orange, Philippine lime,  Chinese orange,  and acid orange.
What is Calamondin orange?
Calamondin is a citrofortunella,  a commercial hybrid between a kumquat and another member of the genus Citrus. People use it in various dishes, marinades, condiments, beverages, preserves, and also used as ingredients in Malaysian and Indonesian cuisines. It is available all-year-round in the Philippines. The plant has wing-like peripheral on the leaf petioles, white or purple flowers, and a small, round lime fruit that is usually 25 to 35 mm (0.98 to 1.38 inches) in diameter but sometimes up to 45mm (1.8 inches). Each fruit contains 8 to 12 seeds whereas, the center pulp and juice are the orange color with a very thin orange peel when ripe.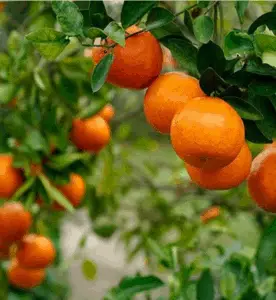 How to grow a Calamondin plant?
The Philippines is the primary producer of calamondin orange. They produce and export the juice to the United States, Canada, South Korea, Hongkong, Japan, and others. Today, though a small scale, Southeast Asia, Hawaii, India, Central, and North America, the West Indies, and others are starting to cultivate calamondin orange. During the season, the fruits make the plant very attractive. You can grow them as an ornamental plant in gardens, pots, container gardens on the terrace, and outdoors.
Propagate calamondin orange tree from seeds
You need to create a greenhouse using a gallon pot, right potting mix, and a grocery bag.
Fill the pot with the soil, put water, and wet the soil thoroughly.
Plant the seeds about one inch deep, cover them well, and press the soil down over the seeds.
Pull the bag over the top of your pot and secure it with a rubber band.
Put your greenhouse indoor in a warm place, and you will observe germination in about two weeks.
Once the seeds have sprouted, expose your greenhouse to the light area, and remove the bag from the top of your pot.
Water them in a small amount. Do not overwater them and do not fertilize the little plants.
When the plants reach a height of about 6 or 8 inches, plant each seedling in a separate pot, fill each with potting mix.
Transfer each seedling from the previous pot to new ones.
Plant them as same depth as in the original pot, water well, and place them outdoors or to the south or east indoor locations.
Place them outdoors in a shady area for the first two weeks and then to the sunny place. When they reach their maturity, pot them again. Fertilize them very lightly twice or thrice a month.
Grow calamondin tree
First, pot the tree in a large container filled with a mixture of potting soil, organic compost, and perlite or vermiculite, and provide plenty of space to spread out and establish a healthy root system.
Keep the soil moist by watering the plant. Avoid over water. You need to allow the top inch of the soil to dry out before another watering.
Plants prefer direct sunlight, so move the plants outdoors for a few hours daily in the spring and keep them indoors in the winter season.
Fertilize your calamondin plant with a citrus formula or a slow-release formula during the growing season.
Remove dead or diseased branches from the plant to promote its better growth. Besides, you need to pinch back the water sprouts that grow from the trunk or roots.
Use proper insecticides and pesticides to avoid infestations.
Tips:
You can place the pot on a wheeled pot tray for smooth movement.
Avoid cutting the fruit with a sharp knife as it may break the seed.
Uses of Calamondin Orange
Calamondin orange bears a small citrus fruit that is used to add flavor to foods and drinks.
Calamondin is rich in vitamin C and can be used to make marmalade.
The fruit can be frozen and used as ice cubes in beverages like soft drinks, water, and cocktails, and other drinks.
Calamansi juice is used to season fish, pork, fowl, fish, spring rolls, dumplings, and various savory dishes.
Many products, such as calamondin cake, coulis, marmalade, and jam, contain calamansi juice as an essential ingredient. During summer Floridians use the liquid in a variation of lemonade or limeade with a sour taste to cut thirst.
The calamondin has a considerable amount of essential oils, which you can extract through several methods like steam distillation, cold-press method, and centrifugal extraction.
Health benefits of Calamondin Orange
Oranges help to activate the body's detoxification process.
It acts as a natural skin cancer-fighting chemical and protects the skin from free radicals, and keeps away wrinkles.
It also protects from cancers of the mouth, skin, lungs, breast, stomach, and colon.
Calamondin orange helps in the reduction of cholesterol levels in human cells.
Oranges help to prevent congenital disabilities, protect the heart, and keeps the fluid levels.
It boosts the immune system, improves oral hygiene, helps to lose weight.
Calamondin orange doesn't contain any fat and is moderately low in calories.
Possible Side Effects of Calamondin Orange
If you excessively intake calamondin orange, it might affect your health.
Due to the lack of fat in orange, it might create a problem in providing energy for exercise, blood clotting, and brain development since dietary fat is necessary to absorb specific vitamins.
It is relatively low in fiber, protein, amino acid, minerals, and high in sugar, this is beneficial to our health, but sometimes it might cause a problem to some people. Though the oranges do not have additional artificial sugar in it, the fruit itself is high in sugar.