Crown of thorns is a species of the flowering plant in the spurge family Euphorbiaceae, native to Madagascar. People also recognize the plant as Euphorbia Milli, Christ plant, Christ-thorn, Corona de Cristo in Latin America, and Coroa de Cristo in Brazil. It is a succulent subshrub or shrub that grows to 1.8 m (5 feet 11 inches) tall. It consists of dark green leaves, densely spiny stem, straight, slender spines that are up to 3 cm (1.2 inches) long. The leaves are up to 3.5 cm (1.4 inches) long and 1.5 cm (0.59 inches) broad whereas, the flowers are a small, united by a pair of distinct petal-like bracts that is up to 12 mm (0.47 inches) thick. It varies in colors like red, pink, and white.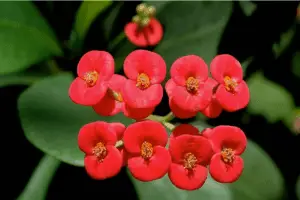 How to grow Crown of Thorns Plant
To grow crown of thorns, first, you need to select a sunny, well-drained planting location with a proper drainage system. This plant can tolerate a few hours of shade during the hottest part of the day, but it requires sunshine for at least two-thirds of the day.
You need to add compost or peat moss and nutrients to your soil (if the land has poor quality) and prepare a soil mixture. It grows best in neutral or acidic soil that is below 7.0, although slightly alkaline soil and somewhat above 7.0, is acceptable. So please test the soil pH and determine whether the land is perfect for the plant or not.
Dig an appropriate hole for each plant as deep as the root ball. Maintain space to ensure appropriate air circulation and check the label of miniature for the proper spacing.
Remove the plant from the container, inspect the roots, prune away the broken roots, and loosen the soil around the outside of the root ball.
Set the plant into the planting hole in the soil at the same level as it was in the container. Fill around the roots with soil.
Gently press the soil with your hands to remove air pockets. Water the plant to keep the soil moist.
Along with this, you need to use an inorganic mulch such as gravel or stones. However, do not use organic mulches such as bark chips or grass clippings as they might encourage fungal diseases if they trap moisture around the plant.
PROPAGATE THE PLANTS THROUGH CUTTINGS
You can propagate the plant from cuttings from your younger branches during the growing seasons.
Use a clean, sharp blade to cut the plant at a point where the branch meets the trunk.
To prevent the sap from running out, quickly dip the end of cuttings into warm water.
Place the cuttings on a paper towel or newspaper for a few days to make it dry and hard.
Dip the cuttings ends into the pot of wet sand. Place the pot in a warm location (75 degrees F) on bright indirect light.
Within a few weeks, it will develop roots, and after about a month, new signs of growth will appear.
Water your plant lightly.
Crown of Thorns Care
Crown of thorns can only store a limited amount of water using its stems. So water them frequently, or you can spray a weak saline solution. However, the root ball should not remain moist for an extended period as it might cause root rot.
If you want to grow it as a houseplant, place it in a bright and sunny area.
If you want to grow outside, make a sunny rock garden and mix it with cactus and other similar types of plants to make it more attractive. Along with this, cactus and different xeriscape types of plants provide the soil with excellent drainage.
During cooler summer, place the plant under direct bright light whereas during hot summer, place the plants in areas with pleasant afternoon shade to avoid withering. But do not overdo with the darkness as it results in the reduction of flower production.
Fertilize the plant once a month in the springtime and throughout the summer to help with bloom production, but it can remain healthy even without fertilizers.
Prune the plant to maintain the shape and size of the plants. Remove old dead leaves and flowers from the surface and cut background leaves, stems, and other unattractive growth.
During winter, move both container and potted plants indoors to save from frost.
Spider mites, mealybugs, and other insects may harm the plant. To remove them wipe the foliage with a cotton ball dipped a few seconds in soapy water and wash your plant under running water but try not to soak the soil.
Benefits:
Crown of thorns is beneficial for curing bronchitis, coughs, hay fever, tumors, digestive problems, intestinal worms, gonorrhea, and other conditions.
The flower is so beautiful that it helps to add attraction to your house, office, and garden.
Possible side effects of Crown of Thorns
This plant contains the harmful ingredient named as phorbol esters, which might irritate on contact with skin or eyes.
If ingested, it causes severe stomach pain, nausea, vomiting, diarrhea, irritation to the throat and mouth, and vomiting.
It is not recommended for a pregnant and breastfeeding woman because it might cause the uterus to contract and could cause a miscarriage.
Consult your pharmacist, physician, or health care professionals before using it to know appropriate dose as it may differ on user's age, health, and several other conditions.