Eggplant is a plant species in the flowering plants (also known as nightshade) grown for its purple edible fruit. It is recognized by a different name in a different country like Eggplant in the United States and Aubergine in the United Kingdom. It is believed to be originated in India and has been cultivated there and in China about 1500 years ago but later, it was introduced to different countries via different trade routes. This fruit is spongy and absorbent plant included in vegetable family and widely used in cooking that supplies a low level of macronutrients and micronutrients. It also contains fiber, potassium, vitamin C, vitamin B6, and phytonutrient.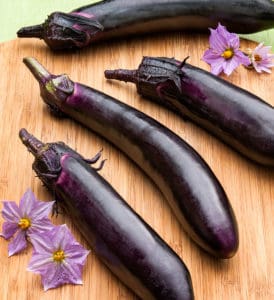 Eggplant grows 40 to 150 cm (1.3 to 4.9 feet tall), with spiny stem, purple colored flower, meaty texture flesh, large coarsely lobed leaves and numerous small, soft edible seeds that taste bitter but when cooked it becomes delicious and tasty. There are several ways of consuming this plant. Some people may prefer simply cooked as a vegetable while some people may prefer it as steamed, stir-fried, pan fried, deep fried, barbecued, roasted, stewed, curried, or pickled.
How to grow Eggplant?
Tropical and subtropical climates are suitable to grow Eggplant. It also prefers hot weather, when grown in a cold environment with low humidity; it fails to produce mature fruit. While growing the plants, space should be maintained 45 to 60 cm (18 to 24 inches) between plants, and 60 to 90 cm (24 to 35 inches) between rows. Mulching should be regular to prevent weeds and conserve moisture. Pollination also helps in growing eggplant flowers. Hand pollination improves the set of the first blossoms.
To grow eggplant in the garden, you need one pot for every two seeds. The container should be placed on the sunny region as eggplant love heat and drainage hole should be made to balance out the moisture level of the soil. After that, soil should be loosely placed into the containers, and a little mix of compost and fertilizers (concentration of nitrogen, phosphorous, and potassium) should be applied to the soil to provide additional nutrients, promote stronger roots and increase the yield of the plants. You need support to the plant for upward growth. For that, staking system should be set up on the bottom of the pot, positioning the stake in a straight and upright position.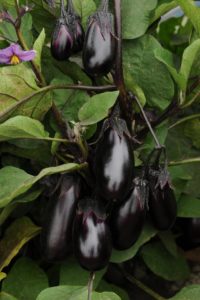 Now, a hole should be created, seeds are planted and lightly covered with soil over the seeds. To keep the soil moisture, watering should be regular. Also, water-soluble fertilizer can be used to prevent the plant from insects, cutworms, and fungal diseases. If the leaves of the plant begin to pale, you can add more fertilizers. Likewise, you can loosely tie the plant to the stake with thin fabric thread, as the plant starts to climb. Tight tying may cut the stem or choke it. After two to three months of an initial plantation, your fruit is ready to harvest.
Health benefits
Eggplant has many health benefits as well as rich in fiber, low in calories that provides a range of nutrients. One cup of cooked Eggplant, weighing 99 g contains 35 calories, 0.82 g of protein, 8.64 g of carbohydrate (3.17 g sugar included), and 0.23 g fat 2.5 g dietary fat and so on. It also boosts up overall health and well-being, lowers risk of mortality from heart diseases, and lowers blood pressure. The consumption of Eggplant juice also leads to lower weight and blood cholesterol levels. It also prevents tumor growth and the invasion and spread of cancer cells, prevents new blood vessels from forming in the tumor, reduce inflammation, blocks the enzymes that help cancer cells to spread.
Moreover, it also helps in the prevention of neuroinflammation and facilitate blood flow to the brain, and helps to improve memory and prevent age-related mental disorders. It also helps in weight management and loss, reduces appetite, reduces calorie, helps to treat anemia, and protects the digestive system. Furthermore, it helps in digestion, also good for your bones, helps to manage diabetes, and reduce stress levels. It also helps to protect infants from congenital disabilities and useful during pregnancy. Similarly, the antioxidants in Eggplant may help in the protection of the liver from certain toxins.