Generally, people do not like Eggplants at all. Most of the people do not like healthy food than the unhealthier ones. But here this dish has a whole new taste of eggplant. I feel it's a lit bit like pizza. It has that cheesy, smooth, moist type of taste in it. This article deals about eggplant parmesan recipe.

What is Eggplant Parmesan? 
Eggplant Parmesan is an Italian dish. It is similar to Lasagna. It is a baked crispy taste of the eggplants along with the combination of cheese, olive oil, basil, flour, eggplant, eggs, etc. Eggplant parmesan can be baked in an oven or cooked in a pan. It depends upon you how you want to make it. It has a different layer of tomato sauce, cheese, and Eggplants.
Want to learn how to make Baked Eggplant Parmesan? Then you have to get ready with all the ingredients that are required to make the Baked Eggplant Parmesan. Now it consumes more time but if you want to try making a new Food item by yourself and enjoy it with your friends and family. It's a good idea for making this dish. However, here in Nepal Eggplant Parmesan is not popular at all.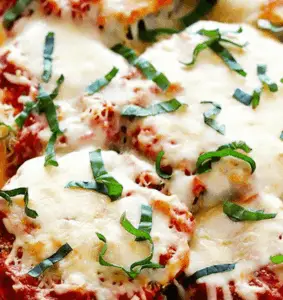 Ingredients
3 Eggplants

Salt and pepper as per taste

1 cup of flour

3 eggs

2 cups of bread crumbs

4 tbsp of Garlic

2 cans of crushed tomatoes

Chopped basil

2 tbsp Butter

8 ounces of grated parmesan cheese

2 chopped onions
Instructions for Eggplant parmesan recipe:
Making baked Eggplants
Cut the eggplants in a thick circle, sprinkle a little bit of salt and leave it for half an hour so that it reduces the moister level.

Now in a bowl, add 3 eggs and whisk it.

In the second bowl, add flour, salt, and pepper and mix it.

Again, in the third bowl, add Brea crumbs and garlic and mix it.

Start dipping all you eggplants step by step in all the three bowls. First dip in the flour, second dip inside the eggs and third dip inside the bread crumbs.

Place it in a container and bake it at 400°C for 20 min. 
Making Tomato Sauce for Eggplant Parmesan
Preheat your and melt some butter add onions and garlic. Cook it until its light golden.

Add crushed tomatoes, salt, pepper and stir it often.

Simmer it for 10-15min. 
Making Baked Eggplant Parmesan 
Take a container and spread oil inside the container. Spread the tomato sauce and on top of the sauce add the previously baked eggplants, add more sauce on top of it and sprinkle cheese and some basil as well.

This way make about 2-3 Layers and bake it at 400°C for 25 min. Then your Baked Eggplant Parmesan will be ready.

Serve it hot and enjoy eating it!
Nutritional Fact
One cup includes:
Calories – 230 calories

Total Fat – 14g

Cholesterol – 15mg

Sodium – 710 mg

Carbohydrate – 17g

Protein – 8g