Different food recipes with zucchini
If you like zucchini and want to know different food recipes with zucchini, then please go through the following contents.
Grilled garlic herb zucchini
It is one of the most natural summer dishes. It is simple to make and takes about 25 minutes to prepare it.
Ingredients
Four tablespoons of olive oil

Medium-sized Zucchini

Minced garlic

Chopped fresh parsley leaves

Salt and pepper 
Steps to prepare it
Firstly preheat the grill in medium flame.

In a small bowl, add olive oil, minced garlic, parsley, and salt and pepper as per your taste.

Mix all of them properly.

Cut out zucchini diagonally, and brush it with the mixture.

Add it to the grill and cook it for about 3 -4 minutes.

Serve immediately. 
Zucchini noodles
Zucchini noodles is one of the popular food recipes with zucchini. It takes a total of 30 minutes to make this dish.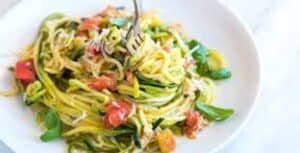 Ingredients
Two tablespoons of olive oil.

One large Diced onion

Large Zucchini

Minced garlic

Tomatoes

Two tablespoons tomato paste

Salt and pepper

Red pepper flakes

Chopped fresh basil leaves

Finely grated Parmesan cheese 
Steps to make it
In a large pan, heat oil on medium heat.

Add onions and garlic, and cook it until the onions are soft and translucent, stirring continuously.

Add in chopped tomatoes, tomato paste, basil leaves, crushed red pepper flakes, and salt and pepper as per your taste.

Continue cooking until the sauce reduces to simmer and thicken.

Take zucchini and spiralize it like noodles.

Add spiralized zucchini in the sauce and cook it for 2 -5 minutes.

Serve it in the plate and garnished it with Parmesan cheese.

You can also add spaghetti if you want.
Some other foods recipes are zucchini pizza, zucchini mushroom salad, baked zucchini fries, and many more.
Nutritions available in zucchini plant
Zucchini is rich in Vitamins, Potassium, Minerals, and it contains zero fat.

Zucchini contains small amounts of iron, calcium, zinc, and several other B vitamins.

It has a high volume of water and fiber.

One cup (223 grams) of cooked zucchini provides

Calories of 17 grams

Protein of 1 gram,

Fat less than 1 gram

Carbohydrate of 1 gram

Sugar of 1 gram,

the fiber of 1 gram

Vitamin A, Vitamin C, Vitamin K

Manganese, Potassium, Phosphorus, and many more.
Health benefits of zucchini

It helps to improve digestion as zucchini contains a high amount of water, fiber, and other nutrients for a healthy digestive system.

Zucchini also contributes to heart health.

It is rich in antioxidants; thus, helps in slowing down aging.

Zucchini lowers down blood sugar level.

Zucchini is a good source of vitamin C, so it maintains and improves eye health. Also, it treats the puffy eyes. 
Possible side effects 
Zucchini grows through the natural process, so it is not bad for health. But, there might occur problems such as- occurrence of kidney stones, or some might be allergic to zucchini.