The Garlic Roasted Potatoes are the best side dish and go along with anything. It has a buttery and garlicky taste. The most important will the seasoning used for making it tastier. It has these crispy golden edges which look eye appealing. It will be much better to eat with steaks. Today, I will be sharing a good oven roasted garlic potatoes recipe with you all. It is effortless and straightforward to make.
What is Garlic Roasted Potatoes?
Garlic roasted potatoes are one of the popular potato dishes that you can make yourself in your home. You need to bake the potatoes in the oven, and its main ingredients would be the garlic and the seasonings. It goes good along with anything, but people generally have it with sautéed vegetables and meat steak. It can also depend on person to person for using different kinds of ingredients in it, and now this can make your food full of flavor.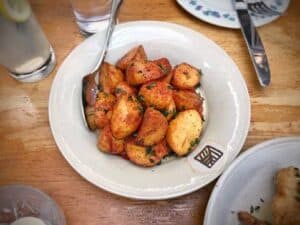 The following are the points that you should note while making garlic roasted potatoes;
The recipe will be even better if you use some sweet potatoes.

Do not over roast it. 

You can also reheat these potatoes in 200 degrees for about 4-5 min.
How to make it?
If you want to learn how we can make these roasted, you need to collect the ingredients first.
Ingredients
4-5 diced potatoes

2 tbsp of olive oil

salt as per required

1 tbsp paprika

¼ tbsp of onion powder

½ tbsp garlic paste or finely chopped

black pepper as per required
Method of preparation
Preheat the oven at 200 degrees.

Take a bowl, add potatoes, oil, salt, paprika, garlic powder, onion powder, black pepper mix all those ingredients evenly.

Take a flat oven dish, put the baking sheet on the oven dish, and spread the potatoes on it.

Now, roast it for about 20 min max and stir it again.

Continue roasting again for about 10-15 min or until it is crispy on the outside and tender from inside.

After that, your potatoes will be ready. Serve it with any other dish you like.

Enjoy your Garlic Roasted Potatoes!
Nutritional values (1 serving)
Calories –138 calories

Total Fat – 6g

Sodium – 305mg

Potassium – 497.4mg

Total Carbohydrate – 21g

Protein – 4g

Fiber – 4g