Geranium, also commonly known as the cranesbills is a genus of 422 species of the flowering plant. It is annual, biennial, and perennial found at temperate regions of the world and the mountains of the tropics. You can find it mostly in the eastern part of the Mediterranean region. Its leaves are long, palm-shaped, and broadly circular. The flowers have five petals and are a variety of colors are white, pink, purple, or blue. They have distinctive veining as well. The most common type grows up to 2 to 4 feet tall and wide.
There are six different types of Geranium. They are zonal Geranium, ivy geranium, regal or Martha Washington geranium, scented-leaf Geranium, angel geranium, and unique Geranium. It can grow in any soil, but it cannot resist waterlogged soil. The larvae of some species like brown-tail, ghost moth, and mouse moth can attack it. Therefore, be very careful if you wish to grow this plant.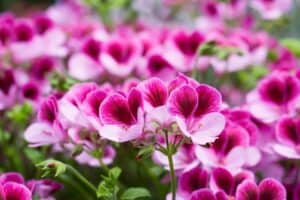 How to grow Geranium plant
The plant produces attractive flowers and foliage so most of the people prefer this plant to grow in their garden or as a houseplant.
The foliage is long-lived and mounding habit with palm-shaped foliage whereas, some species have spreading rhizomes.
It grows in winter season in hard zones 10-11 as an annual plant. But it prefers to grow in part shade to full sun, in well-drained but moisture-retentive soils that are rich in humus.
The excellent feature of Geranium is its long blooming season that starts in spring and can last into fall.
During winter, keep the plants above 45 degrees to 50 degrees so that they may bloom. Likewise, some of the species are not winter-hardy in cold areas.
They prefer to grow in specialized gardens like rock gardens.
To grow this plant, first, you need well-drained and neutral to alkaline potting soil that is rich in humus. If you want to grow it as an outdoor plant, then you need moist, well-drained soil with an equal amount of soil, peat, and perlite.
After that, locate your plant in an area with at least six to eight hours of sunlight.
Maintain the space about 8 to 12 inches apart between the plants and the same depth as their original planting pots. Do not overcrowd the plants.
How to care Geranium
Geranium is an easy plant for both growing and caring. Whether the plant is indoor or outdoor, caring is necessary.
Water genuinely once the soil begins to feel dry. Avoid overhead irrigation, as this can lead to pests or disease issues.
Likewise, fertilizing is usually necessary. So for that, use a water-soluble houseplant fertilizer or a 5-10-5 fertilizer with additional organic matter.
Fertilization should be in every four to six weeks throughout their active growing season. Over-fertilizing can discourage growth and might result in poor blooming.
Once the plant becomes overgrown, the plants require repotting. Pruning and removing the dead flowers from the plant will help to encourage additional blooming.
You can propagate the plant easily from roots and cuttings.
It can be propagated in fall and can be dug and brought inside.
Pests, aphids, caterpillars, whiteflies, slugs, and various mites attack the plant. It might cause leaf drop, blooming problem, and even death. So use insecticides to prevent the pests and other germs.
Benefits and uses of Geranium
Most of the species of Geranium can be cultivated for horticulture use and pharmaceutical products.
Its consumption brings out several health benefits. They include the ability to lower stress level, reduce inflammation, relieve menstrual pain, and strengthen the immune system.
Along with this, it also helps to ease digestion, improve kidney, skin, and hair health.
It helps to heal the wound faster.
Possible side effects
Geraniums are very toxic in dogs and cats. Significant signs are vomiting, anorexia, depression, and dermatitis in dogs and cats.
If you establish direct contact with foliage, then it might cause skin allergies.