Most probably people prefer a soup whenever it's cold and wants to get cozy drinking Soup. Also, soup is a much healthier food item. Tomato soup is the only soup that is much popular and is easy to make among all other varieties of soup. Here the main ingredient is tomato and basil. This content will let you know about tomato basil soup.

Tomato basil soup
Tomato Basil Soup is a rich, thick and smooth soup which you can serve hot or cold both. It's a starter food item before you eat the main course. You can easily make tomato Basil Soup using common ingredients like fresh tomatoes, garlic, olive oil, and basil. In Nepal, people prefer tomato and mushroom soup the most, whether it be thick or thin soup.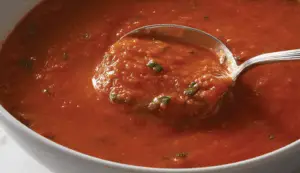 How to make

You can easily make tasty soup at your home. So, first and for most, you need to get ready with all the ingredients that you require for the Soup recipe. Are you ready? Let's get started.
Ingredients
3 tbsp of olive oil

2 chopped onions

3 cloves of finely chopped garlic

14 ounces of diced Tomatoes

4 cups of Vegetable stock

1/2 cup of heavy cream

Salt and Black Pepper

1 tbsp of oregano

Red Chilly Flakes

3 chopped basil leaves
Now, that all your ingredients are ready. Let's start with the Instructions to make the Soup.
Instructions
Preheat the pan and add olive oil. Next, what you are going to do is add the chopped onions and garlic. Stir often and cook it for a while about 10min. Reminder your onion and garlic should not burn.

After that slowly one by one add tomatoes, salt, black pepper, oregano, red chilly flakes, basil, cream, and stock and stir it.

Simmer the soup for 20min max and keep stirring approximately.

Now, be careful and blend your soup.

Garnish it with a little bit of cream and Basil and Serve it a bowl.

Besides, you can also serve the soup along with crispy bread.

Your soup is ready. Enjoy your fresh and healthy homemade soup!