Mashed Potatoes is a creamy and tasty dish that you can serve as a side dish. The ingredients like milk, cream, salt, butter, and pepper play a vital role in this dish. Boiled potatoes are mashed along with milk, cream, butter, and seasoning is added. The US is the origin of Mashed Potatoes. Generally, you can serve mashed potatoes with steak and sautéed vegetables.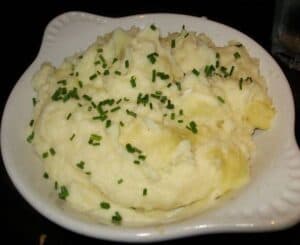 Before heading straight to the recipe, some of the points that you should keep in mind while making mashed potatoes are;
Cut your potatoes before boiling.

Add a minimum amount of water because too much water can ruin your potatoes.

Do not over boil the potatoes.

After boiling potatoes, make sure you drain it well and put it in a dry pot or container.

And lastly, do not over mix it because it may form into a gummy and sticky type of texture. 
How to make Mashed Potatoes real quick?
Now, if you are ready to make it, then let's get started by collecting all the ingredients that we require.
Ingredients needed for making Mashed Potatoes
2 pounds of potatoes, which is peeled and quartered.

1 cup of milk

2 tbsp of butter

Salt as per taste

Black pepper as per required

Some finely chopped green onions
Steps for preparing Mashed potatoes

In a pot, add water and a lit bit of salt and bring it to the boiling point.

Now add potatoes and cook until it has a soft tender, but it should be still firm.

Drain it and leave it for 15-20 minutes.

Take a pan, add butter and milk. Cook it on low heat until the butter melts.

Now, add butter and milk into the potatoes and start mashing it with an electric beater or a potato masher.

Add cream and slowly blend it well and add the seasonings, which are salt and pepper.

When all the ingredients are thoroughly mixed, the dish will be ready.

Garnish it with green onion and serve it warm as a side dish with meat steak or sautéed vegetables.

Enjoy your dish.

Nutritional values (as per the recipe amount for 4 serving)
Calories – 257

Total Fat – 7.2g

Cholesterol – 20mg

Sodium – 76mg

Total Carbohydrate – 43.7g

Protein – 5.6g