I am a foodie person, and I love visiting new Restaurants, Bars, and Café. I am always ready to try some modern Cuisine or Dish. If you the same, then this article is for you. Food provides you a lot of nutrition. Food should be eye-appealing, aromatic, and tasty. There are a lot of varieties of food that you can find in today's world. Most commonly preferred are Fast foods. For the busy day to day running life, people are very much likely to eat Fast Foods. Some of them are like Burger, French fries, Fried Chicken, Pizza, Momo, Pasta, Nachos, Chicken nuggets, Spaghetti, Tacos, and so on. This article will let you know about the momo recipe:

Momo

Momo is the most common food and liked by everyone in Nepal. One main reason is that there are a lot of varieties of momo both for vegetarian and non-vegetarian peoples. Momo is the combination of the stuffed vegetables or minced meats which is wrapped up with a thin light layer of dough from the outside. It is steamed and served with a sauce. Tibetan firstly created it. It is famous all over South Asia. I love chicken Dumplings the most.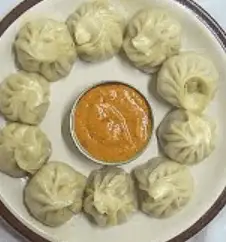 Momo recipe

Ingredients used for making Momo
120gram of Flour

1\2 tsp of Salt Water as required

Others ingredients are below
Ingredients Used for Stuffing
400gram of Minced chicken

1\2 cup of Finely chopped onions, spring onion, and coriander

1\2 tsp of Garlic

4 finely chopped chilly

1\2 tsp of salt

1tsp of oil\butter

1\2 tsp Momo powder

1\2 tsp Soya sauce
Ingredients Used for Sauce
25 gram of garlic

3gram of chilly

200gram of tomato

200gram of Onions

Corriander

1 tsp oil

To taste salt

3 tsp vinegar or lemon juice

1\4 tsp Sichuan pepper
Instruction for Momo recipe

In a bowl put flour, salt, and water and make it firm dough. Cover the bowl and let it be for 30min.

Now start mixing all the ingredients like minced chicken, salt, garlic, spring onions, onions, coriander, chilly momo powder, oil, and a little bit of water in a bowl.

Use the dough to roll it into a small round flat circled base and fill it with the mixed stuffing. Bring the edge together, twist it, and finally seal it properly for a good shape and size.

Heat the oil put garlic, fry onions, put tomatoes, chilly and cook for a while and add salt, vinegar, Sichuan pepper, coriander, and mix and leave it for a while. After it's cooked cool it down and grind it in a mixture and your sauce will be ready.

Steam the momo for 35 min maximum.

Enjoy eating momo along with the sauce.