INTRODUCTION TO OFFICE PLANT
The environment where you live today consists of pollutions and toxins that are mixed up in the air that you breathe every second. Such polluted air is very much harmful to the health of human beings, which might cause a severe problem soon. It's now time to focus on finding out the ways to combat those problems, and the only solution to it is the plants. The green plants will benefit the environment and the humans around it in many forms. People are thus having different types of plants in their office or house, which is known as an office plant, house plant, or indoor plant. The indoor plants have a wide range of advantages and benefits from which you can prosper in your health as well as improve the environment. 
The concept of having the plants in the office came from the routine of the office hours. Because 60 % of your time is spent mostly inside the four walls of the office, you get stressed after doing the same task in the same place every day. The presence of the plant in your office area can make a difference as plants have positive psychological effects. The phenomenon of Biophilia explains that humans subconscious seeks the connection with nature, which allows the mind to release the psychological stress compared with the mental work. 
Moreover, the plants play a vital role in the reduction of the components that cause air-pollution, especially the volatile organic compounds like; toluene, xylene, benzene. That means plants act as an air purifier in your office too. Moreover, it refreshes and relieves your tired eyes also. The indoor plants are mostly tropical or semi-tropical epiphytes, succulents or cacti. The indoor plants need particular requirements like proper light, correct moisture, humidity, and temperature to flourish. 
BENEFITS OF OFFICE PLANT
A study at the University of Technology, Sydney has proved that the presence of plants reduces a significant amount of stress in the workplace.

The green color has a relaxing and calming effect. So, plants will help the employees to lift their spirit and their well-being around the office.

Green plants in the office can increase the level of productivity too.

The plants help in improving memory retention. Moreover, when you are working in an environment where you can see the plant, then you will be engaged psychologically, which makes you happier and more productive.

Experts state that plants help reduce the risk of sick building syndrome too. One study indicates that green plants in the workplace decrease the problems of ill health like fatigue, irritation of the nose and eyes, dry skin, etc. 

NASA claims that plants can eliminate formaldehyde, trichloroethylene, benzene, from the air. This activity makes the breath fresh. 

Plants can absorb the sounds, which means all the annoying sounds will not disturb you if you have plants in your office.

One of the studies showed the direct relationship between the presence of plants and nature in office and the employees' creativity.

As per the theory of Attention restoration, the brain shifts into different processing mode just by looking at nature, which lets the people feel more relaxed and focused towards the work.

Indoor plants have the capacity of maintaining optimum humidity at the office, which results in comfort, high concentration, and dehydration of workers in the office.

The scents of green plants play a significant role in the well-being of people in the office.

The accuracy in typing and calculations will increase if you keep such green plants that provide subtle scents in the workplace.

Having green plants around your office will make you look healthier because most of the office workers get stressed by their work, which results to dry skin. So, having the plants near you will reduce the dry skin by 20%, which is a good improvement in your health and lifestyle.
T
OP TEN OFFICE PLANTS

Well, through the above concepts of office plants, you came to know that indoor plants are very prominent in providing satisfaction and relaxation to you in your workplace. However, you may be unknown about the types and choices of office plants. We may help you to find out the best ones; please go through the plants mentioned below to keep in your office. 
SNAKE PLANT
One of the beautiful plants that you can have indoor like in your office is Snake Plant. Being native to tropical West Africa this evergreen plant is mostly known as mother in-law's tongue and viper's bowstring hemp. It got its name as snake plant because of its sharp margins and shape of the leaves. You can have it in your office right in the corner of your desk as per your choice. If you are planning to have it on your desk, then make sure you get 'Futura Superba' or 'Whitney' which is of a small size.
Being a species of Sansevieria trifasciata, the snake plant is one of the great choices to have in your office. It exchanges the inhaled carbon dioxide into breathable oxygen using crassulacean acid metabolism process. The NASA Clean air study has found the potential indoor air filtration qualities in the snake plant, which helps you to prevent the sick building syndrome. It doesn't need any extra care so that can be something you can look forward.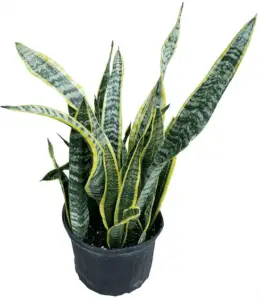 You can manage your work and care the plant simultaneously as it is tolerant to drought and low-light levels. It requires less water, less care, etc. This plant acts as a good air purifier by removing the toxins (xylene, toluene, and formaldehyde) from the air, which eventually acts as a good cure for sick building syndrome. The plant is so beautiful and eye-soothing that it will revive your mental retention and focus if you look at it. Moreover, it can be used both as Floor standing plants or Tabletop plants in your office. It will add texture, color, and different appeal as it will be a more decorative element in your office. 
AFRICAN VIOLET
African Violet, the genus of Saintpoulia, a herbaceous perennial flowering plant is native to Tanzania and eastern tropical Africa. This fuzzy leafed plant is one of the great choices as an indoor plant, but it can also opt to outdoor plants. This plant was prevalent during the 1970s and is still trending because of its adaptability in different conditions. Unlike other plants, African violets need the same condition as humans needs. You can have it in your office as it can grow under the average office temperature. Similarly, it doesn't prefer to have a significant level of sunlight as it can flourish even in the light provided by a fluorescent lamp.
If you are planning to have the plant in your office desk, then you can choose miniature violets. These are not less than six inches in diameter so it can adjust or fit the office desk. You can have it in your office as it is very eye-soothing and with a look on it can relieve the stress. The beautiful color and the fascinating structure of it will lure you and make the office hours go by quick without any pressure.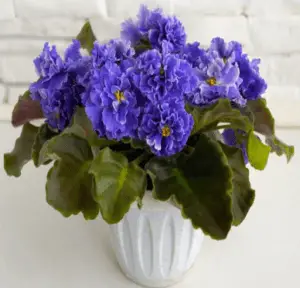 African Violet can be a perfect decorative element in your office. It is pretty in color and can appeal in a more natural way making your working environment more comfortable. As a piece of decoration, this African Violet can be the selection for putting indoor plants in your office, and this choice will definitely won't go wrong. So, get one of those African Violet and have your office look good with different vibe and appearance.
ENGLISH IVY
English Ivy, species of Hedera Helix is a flowering plant which is native to the most parts of Europe and western Asia. It is known to be a rampant and evergreen vine, which you can see in most of the garden and houses. Maybe because of the average conditions that are required for the plants to grow, it is quite popular as the indoor plant. It prefers to have moist and shady locations where the indirect sunlight is present. The plant needs medium light and litter water (twice a week). Thus, you don't need extra effort to care about this plant.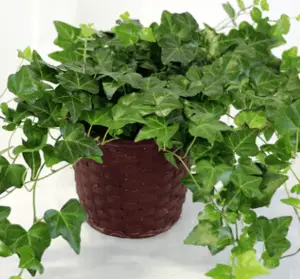 As the plant can climb and cling if given support, so you can control it via wrapping its tendrils around a trellis which will also look decorative in its way. Well, if you want the English Ivy in your small space in the office, then you can go for the dwarf varieties like 'Pixie Dixie.' If you also want to have some of the fancy foliage in your office, then you can have the ruffled leaves of 'Curly Locks.' So, if you plan to have the indoor plant in your office, then English Ivy can be something you will not regret to choose.
ZZ PLANT
ZZ plant, a unique enough and pretty different name is native to Eastern Africa and northeastern South Africa. This plant has various names like Zuzu plant or emerald plant. The name ZZ came from the species Zamioculcas zamiifolia. It is a genus of flowering plant and lies in the family of Araceae. ZZ plant is a succulent plant which is quite famous for placing in indoor areas like homes and offices.
It is suitable for your office because of the two main reasons. First, this plant is tolerant to low light so you can place it anywhere. Second, it is tolerant to drought, which means only little watering can work out in this plant. The plant will slowly flourish and give you many benefits gradually despite minimal care. Its advantage is that it can reduce volatile organic compounds from the environment, which means you will have more breathable air that is safe and refreshing.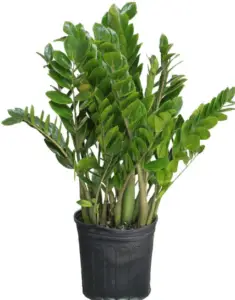 Moreover, it is an ornamental plant and has attractive foliage. The laddered leaves of the ZZ plant can be an excellent choice for the office setting. Well, you can also have 'Raven' cultivar that will look fascinating in your office desk. This green plant will make each day at work be more refreshing and stress relieving with its presence. Thus you will eventually get a comfortable working environment to work around in the office and feel more positive and refreshed.
ALOE
Aloe, one of the green plants that lookout for the sunny days, is native to the Arabian Peninsula. It is one of the famous and go-to indoor plants for most of the people around the world. Its leaves are quite thick and fleshy with green to grey-green along, having serrated margin and small teeth. If you have little space in your office or if you want to put it right at your desk then you can go with the dwarf 'Minibelle' or the speckled 'Tiger Tooth.'
If you want to grow it better, you need to find a space where the sunlight heads on like in the windows. You need well-drained soil in a pot which you think suits to your current office or the desk. It is tolerant of water so, you don't need to water it every-time, and again. For better growth of the plant, you can have the sandy cactus mix in the pot for the aloe to grow so the drainage can be there as required for the plant.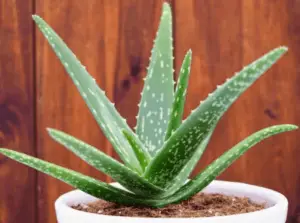 You can get full benefits from the aloe by giving little care to it. It creates a positive vibe and creates a psychological effect that will make you feel more creative in the office. You will get all stress-relieving moments through regular contact with the plant in your office. So, get that greenery in your desk and make you feel more refreshed than ever. 
PHILODENDRON
Philodendron is a genus of flowering plant in the family Araceae. The word philodendron is a Greek word which consists of two words: 'Philo' which means love or affection and 'dendron' which means tree. It looks lovely with its glossy green leaves which are usually heart-shaped. People generally prefer it in a hanging basket in the indoor areas, but you can work it out in a small trellis or totem pole too.
Philodendron grows fast and can adapt to various water, light, and temperature conditions. It can survive in darker places too. However, please put it at the area where it gets moderate sunlight but avoid direct sunlight. You need to water it often to maintain the moisture. The plant prefers liquid fertilizer with macronutrients. So, water them monthly with liquid fertilizer during summer and spring, whereas every six to eight weeks during winter and fall.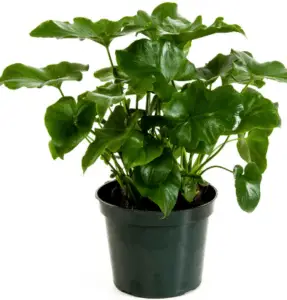 NASA found that philodendron absorbs toxins like nitrogen oxides and formaldehyde. Thus, it is healthwise beneficial to place indoors. Moreover, it can be used as an ornamental plant in the office so that it can add natural feelings in the office. It can grow on the windows, walls, the filing cabinets, etc. As per your choice, you can cut them back too. It's a fast way to add a lot of charming greeneries and bright colors throughout an office.
TILIONDSIA
Tiliondsia is an evergreen perennial flowering plant that is native to the Northern Mexico and the Southeastern United States, Mesoamerica and the Caribbean to mid-Argentina. It is pretty different from any other green plant as its appearance is very soothing. The plant has silvery leaves covered with specialized cells that are capable of rapidly absorbing ambient humidity. It is also known as 'Air Plant' because it clings anywhere like tree branches, barks, bare rocks, etc. Well, this kind of plant is epiphytes, due to which most of the bulbs of plants do not lie in the ground and usually hang in the air.
Tiliondsia is quite popular these days in offices and homes because of its adaptability in the neglected conditions. The rooting system of the plant is minimal due to which it is tolerant of watering. So, you don't need to water it often, which is very beneficial for you to care while working in the office. This type of air plant doesn't need any direct exposure to the sunlight, so you can just put it in the corner where the sun level is moderate.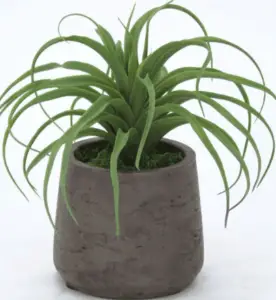 It can add the natural touch with its magnificent structure if you place it at your workplace. You can manage the air plants in your office by having it in a shell, teacup, or other decorative containers. Moreover, it will also control the humidity level of your office area.
OXALIS 
Oxalis is the genus of a flowering plant in the Wood-sorrel family. The plant is also often called as the Wood sorrel plant because of the acidic taste reminiscent of the sorrel proper which is significantly related. This perennial plant usually has five petals fused at the base with ten stamens. Well, in the past, people use to consume oxalis as food. It was an excellent form of food which was eaten to alleviate thirst on the long trips. It was also used to help with cramps, fever, and nausea and also used to make a lemony tasting tea.
As an ornamental plant, it is vital because of its variety of color that ranges from whites to yellows, peaches, pinks, etc. This plant will make your office look different and appealing with the positive and refreshing vibe of the plant. The sweet scent of the plant will lure you to work more. It will definitely increase the level of your productivity and creativity. This beautiful plant will win over the hearts and minds of people that are around the office.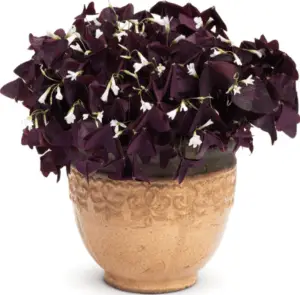 Ironically, the Oxalis plant is known to be the lawn weeds. The Volcanic sorrel 'Zinfandel' with deep purple leaves or with yellow flowers will be suitable for office. It can survive in the area where there is a low level of sunlight too; thus, it becomes easy for you to grow it. However, for better results, always look for sunny space to get the best color out of the plant. So, get one of those today if you think your office space needs a different vibe filled with nature. 
REX BEGONIA 
Rex Begonia is a flowering plant in the family of Begoniaceae. It is mostly native to moist subtropical and tropical climates. It mainly grows in the colder climates; however, during summer, it is cultivated outdoors. The flower is bright and colorful, with no petals. The leaves of the plant are found mostly large, which is variously marked or variegated and usually sized unequal. Notably, the Rex begonia is all about its foliage with dozens of cultivars. These cultivars feature veining, speckles, and also the swirling patterns of different shades like silver, purple, red.
And if you look at the past, people use to consume it despite its sour taste. Moreover, the essential thing about Rex Begonia is that it is light tolerant. So, you don't need to have it in a sunny place in your office. This office plant can adapt to the darkness so you can place it anywhere in the corner of your office. However, you need to provide the required humidity for the plant to flourish properly.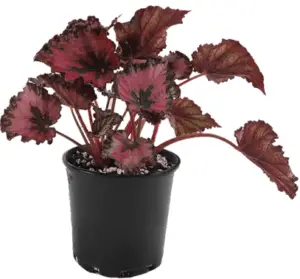 It has the aesthetic appeal for your office so that the working environment can be comfortable. You can work with the reduction of stress and psychological pressure. Moreover, this attractive plant will lure your new clients and make your business run better. So, if you are confused about office plants then go for the Rex Begonia, it won't let you down.
LUCKY BAMBOO
Lucky Bamboo is a species of flowering plant in the Asparagaceae family. It is often known as Dracaena Sanderiana and is native to Central Africa. It has several names like the Belgian evergreen, ribbon plant, ribbon dracaena, etc. This perennial herb can grow up to 100 cm with its twisted grey-green color leaves. Unlike the real bamboo, its stem is fleshy. You can shape the stems into different shapes like heart, spiral, weaves, etc.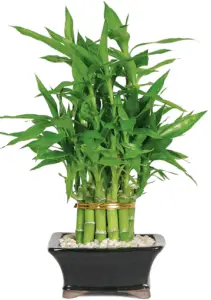 Lucky bamboo prefers the semi-shade site as direct exposure to the sunlight can cause the yellowing of the plant. And it tolerates dry air and doesn't need any constant and frequent watering or spraying. The lucky bamboo plant can grow without soil also. You can add the stem into the submerged water so that it can flourish slowly. Make sure the water level doesn't sink below the stems as they might not recover from the desiccation. The plant is cute and small. You can shape it any way you like, so this office plant is something you can have without a doubt.
The presence of this office plant activate your focus and mental retention. People believe that having the lucky bamboo plant in your office will bring prosperity and happiness for your business. This office plant will add the texture of nature and also benefit in you many forms. So get one of the lucky bamboo plants and get yourself the luck you want.