I am a foodie person, and I love visiting new Restaurants, Bars, and Café. I am always ready to try some modern Cuisine or Dish. If you the same, then this article is for you. Food provides you a lot of nutrition. Food should be eye-appealing, aromatic, and tasty. There are a lot of varieties of food that you can find in today's world. Most commonly preferred are Fast foods. For the busy day to day running life, people are very much likely to eat Fast Foods. Some of them are like Burger, French fries, Fried Chicken, Pizza, Momo, Pasta, Nachos, Chicken nuggets, Spaghetti, Tacos, and so on. This article will let you know about the Pizza recipe:
Pizza

Pizza is one of the most eye-appealing food. It has many ingredients in it, and that makes it look very colorful. Pizza has a flat thick round dough, contain sauce at the first layer and different vegetables, meat, and cheese at the top. It is Italian food, and it is famous worldwide. The flavor of pizza is so very satisfying. I feel cheese on top is the secret ingredient of a pizza. Just a slice can make me happy. You can also make it at home using the ingredients that you like.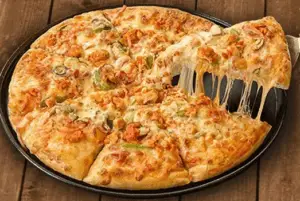 Pizza recipe

Ingredients Used for Dough
2 1\2 cups of warm water ( 600 ml )

1 tsp sugar

3 cups of flour

2 tsp of dry yeast

1 tsp of olive oil

! can of Tomato Sauce

1\2 pounds of chicken

3 tsp of Oregano

1 medium green or yellow pepper

2 cups of cheese

1 small onion chopped

Salt as per the taste 
Method of Preparation
In a large bowl, keep flour, yeast, sugar, warm water and form a soft dough. Cover it and leave it for 35min max.

Now cook the Chicken, Onion, Pepper in medium heat.

Put the dough in a flat surface and punch it to make a perfect medium flat circle. It will be the base of our pizza.

Now coat the layer with Olive oil, again layer it with Tomato sauce, add mixed vegetables that you like and sprinkle oregano, salt, and cheese.

Bake the pizza for about 25Min max in 400º C until it looks a light brownish, and your pizza will be ready.