Fries are the best dish for everyone worldwide though it's not healthy enough. Most of the people mostly consume potato fries than the other varieties of chips. Fries are also fast food that is pretty much quick and easy to make. Also, homemade fries are hygienic and healthy compared to that of hotels and restaurants. So, it will be better to make and eat at home.
Homemade Potato Fries
Usually, you can eat potato fries as a breakfast or a side dish. Crispy and golden looking fries are the best. We can cut it in a small diced size and fry it. Also, we don't need more ingredients to make this dish. It is very easy, and we can make it a couple of times in a pan. First, we can boil, bake, or microwave it then after we can fry it in a pan.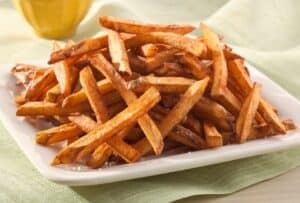 How to make Potato Fries at home?
Start with assembling the ingredients first.
Ingredients needed are:
3 medium Potatoes (cubed)

3 tbsp of butter or oil

Salt and pepper to taste
Preparation method
Rinse the potato cubes with cold water and drain it.

Now microwave it for 4 min.

Take it out from your microwave and let it cool for a while.

Now heat the pan and add butter in it, when the butter melt and gets brown then add the potatoes.

Stir it often.

Add Salt and pepper and stir.

Cook it until it gets that perfect dark golden color and is crispy too. (you can also flip it rather than stirring it)

Your potatoes will be ready. You can serve it with some breakfast items like bread, eggs, ham, etc.

Enjoy your Golden and crispy homemade fries!
Nutritional Values (1 serving)
Calories – 357

Total Fat – 18.7 g

Cholesterol – 0 mg

Sodium – 599mg

Total Carbohydrate – 45.38g

Protein – 4.21g