Salads are the most healthy food item to be consumed. Fresh vegetables that are seasoned and mixed with lime and seasonings are the way of making a salad. But in this salad, "Avocado" makes it special. It is suitable for people who are obsessed with avocadoes. If you like to add your favorite vegetables, you can also add some more ingredients to it. This avocado dressing became a simple idea for lunch, which is mixed up with potatoes. It is a simple and easy way of making potato salad with avocado.
What is Potato Salad with Avocado?
Potato salad with avocado is a tasty dish that needs ingredients like lemon juice, salt, pepper, sour cream, cucumber avocado, boiled potatoes, etc. It can be a delicious dish for your lunch. It has the creamy flavor of the avocado, and potato makes it more likely to be the best salad ever. This recipe is healthy for everyone. You can also add boiled eggs and mayo if you like it. It also depends upon you how you want your salad to taste like with your favorite ingredients.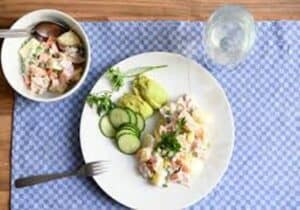 How to make Potato Salad with Avocado?
If you are ready to make this amazing recipe at home, let's start by assembling the ingredients.
Ingredients
1 lemon juice

Salt as per taste

4-5 tbsp of light sour cream

Few Chopped coriander

¼ finely chopped red onion

paprika as per required 

1 tbsp of garlic powder

3 medium potatoes diced 

1 stalk celery (finely chopped)

2 Avocado cut into cube

½ cucumber finely chopped into dice
The method of preparation
Take a pot, add water and salt boil it. Now add potatoes and boil it for 15 min max.

In a bowl, put avocado, salt, garlic powder, black pepper, lemon juice, Paprika, light sour cream, and smash all these evenly.

Take another bowl to add Potatoes, onions, coriander, cucumber, celery, salt, pepper, chili powder, and the mashed avocados.

Now, again, mix it properly altogether using a spoon.

Your dish is now ready.

Enjoy your dish.
Nutritional Values of Potato Salad with Avocado
Calories – 457

Total Fat – 26.9g

Sodium – 51.9 mg

Total Carbohydrate – 53.7g

Protein – 7.7 g