Potatoes are the most common vegetable in the world. Many people like potatoes and different recipes for it. Children are huge fans of potatoes. You can make a variety of dishes using potatoes. This article is about one of the most popular potato dishes-roasted red potatoes.
What is Roasted Red Potatoes?
Roasted Red Potatoes are simple and the best plain dish which can be made quick and served. These potatoes are first tossed in oil and mixed up with salt and pepper along. After that, you need to roast or bake them. It can be an excellent additional dish for any other food items. Putting some garlic in it can give it a real garlic flavor. If you are willing to have some boom taste in it, you can also add grated cheese to it. But, today, here in this recipe, I am not going to include cheese. It is just going to be a simple, easy, and quick dish that will be ready in about 25-30 min max.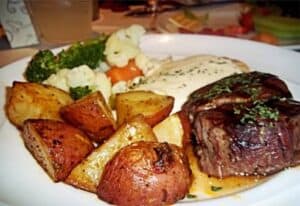 How to make Roasted Red Potatoes?
If you love making these Roasted Red Potatoes, then go through the following instructions step by step.
Ingredients needed are as follows
3 pounds of small red Potatoes (cut it in halved)

1 tbsp of salt

Black pepper as required

4 cloves of chopped garlic

¼ cup of oil
Method of Preparation
Preheat the oven at 450 degrees.

Take a flat oven dish, put the potatoes in it.

Add salt, black pepper, oil, garlic, and mix it well.

Now, put that inside the oven at 450 degrees for about 30 minutes.

Your potatoes will be ready. It will be crispy from outside and delicious inside.

Enjoy eating these tasty Roasted Potatoes!
Nutritional Value ( 1 serving)
Calories – 180

Total Fat – 8.6 g

Cholesterol – 0 mg

Sodium – 501 mg

Total Carbohydrate – 23g

Potassium – 642mg

Protein – 2.7g