Some easy way to make a new dish at home is exciting because we all get tired of eating the same meal day today. And also, we all like to prepare quick, easy and tasty food which is healthy for us. Don't you think? Nothing can be as homemade hygienic food as the outside foods. Today's Recipe is all about the easy, quick, and healthy dish named Sautéed zucchini.

What is Sautéed Zucchini?
Zucchini is the critical ingredient to make the dish named sautéed zucchini. Zucchini is a small cucumber type of vegetable, and it is typically dark green. It is a healthy vegetable that people eat during the summer season. You can make sutéed zucchini using olive oil, fresh zucchini, onions, cheese, garlic paste, etc. It is a simple dish that tastes quite good.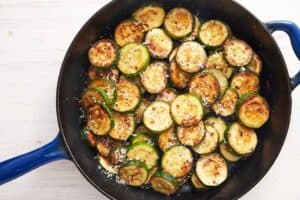 How to make it?
To make sauteed zucchini is not a difficult task. Yes, it would be difficult if you don't know the process of preparing it. If you carefully follow the instructions that are given below, you can make a tasty and healthy sautéed zucchini. So, go through the recipe below.

Ingredients:
2 tbsp of olive oil

2 zucchini sliced into a round and thick circles

1 medium-size onion diced

1 tbsp of salt

½ tbsp of black pepper

¼ cups of grated cheese
Methods of preparation:
Please make ready all the ingredients as mentioned above.

Preheat a pan, add olive oil and put the flame in medium.

Now you can add the Sliced zucchini.

Cook and stir the zucchini until it is crispy.

Then add salt and black pepper as per your taste.

Sprinkle cheese from the top and cook it for another 30 seconds. Your Sautéed Zucchini is ready to be served.

Enjoy eating it!
Nutritional Values (amount per serving)
Calories – 85

Total Fat – 6.8gram

Cholesterol – 0mg

Sodium – 3.6 mg

Potassium – 279mg

Total Carbohydrate – 6.1g

Protein – 0.9g