What is Tomato?
Tomatoes, the species originated in western South America that is edible, often red, a berry, a fruit commonly used as a vegetable ingredient or side dish. It can be consumed in various ways, either cooked or raw, in many recipes, sauces, salads, and drinks. It is an excellent source of vitamin C, potassium, folate, and vitamin K. The word tomato derived from Spanish word tomate. During the 16th century, in Europe, it was introduced to other parts of the world by Spain when they encountered it from their contact with the Aztec during the Spanish colonization of the Americas.
How to grow tomatoes in the garden?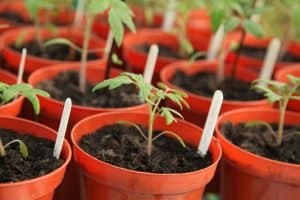 How to grow tomatoes in the garden?
To grow tomatoes, ample sun, high temperatures and humidity, fertile soil, and plenty of water is most necessary. Beefsteak tomatoes need the most heat (8-12 hours of sun a day) while the cherry tomatoes need the least (5-6 hours of sun a day).
First, a deep garden bed should be made enough space to branch out. Lighting should be adequately managed as they need strong and direct light. To develop a sturdy stem, plants need to move and sway in the breeze but if you intend to grow seedling inside; you will need to provide air circulation.
Tomatoes won't grow until both the soil and air temperatures remain warm so you can cover the planting area with black or red plastic a couple of weeks before you plant to get the better result.
Once your tomato plant reaches about three feet tall, the leaves need to be removed from the bottom of the stem that may create a fungus problem. Spraying compost tea is effective at preventing fungus diseases. Along with this, suckers, which grow in the crotch joint of two branches also need to be removed which may take energy away from the rest of the plant. Watering should be regular otherwise the plant might be cracked.
There are two types of tomatoes. They are determinate and indeterminate. Determinate tomato reaches a certain height, then set, and ripen fruit while indeterminate means the plant keep growing taller. After the tomato gets ripen, you can harvest them.
How to grow tomatoes in pot/container?
Types of tomatoes
There are various types of tomatoes from marble-sized grape or cherry tomatoes, to juicy salad tomatoes, huge, sweet, etc. their color also varies from deep crimson to orange, yellow, green, purple, and chocolate.
Cherry and grape tomatoes: Cherry and grape tomatoes are small fruit sized one that is suitable to grow in cool, alpine or short-summer gardens. They have better disease resistance than the larger ones. It is further classified into four types. They are sweet 100, sun gold, blackberry, sunrise bumblebee.

Sweet 100 is a great-tasting, prolific cherry tomato while sun gold tomato is a sweet orange-coloured tomato that is perfect for salads. Black cherry is a deep purplish-red coloured fruit with true tomato taste, not just sweetness. Similarly, the sunrise bumblebee is a beautiful orange cherry tomato with red streaks through the flesh, which is a perfect addition to a colorful summer salad.
Salad tomatoes: Salad tomatoes are little tarter and juicer than cherry tomatoes with some acid that balances their sweetness, perfect for slicing on sandwiches or chopping into salads, and making excellent tomato sauce. It is further divided into ten types. They are Pantano Romanesco, green zebra, black zebra, costoluto Genovese, sweet clusters, Valencia, Carmelo, stupice, early girl, and enchantment.

Salad tomato serving

Pantano Romanesco is a red slicing tomato that has a perfect balance between sweetness and citrusy tartness while green zebra is a tomato with darker green stripes. Black zebra is somehow similar to green zebra but with deep, purplish-black flesh with red streaks, and great flavour.

Likewise, costoluto Genovese is heavily ribbed, twisted, deep red, juiciest, best-tasting tomatoes.
A sweet cluster is a big, pricey cluster having a perfect balance between sweetness, tartness, and tomato flavour. Valencia is an orange tomato with the texture and flavour of sweet, ripe mango, with a citrusy edge, not so juicy, and very few seeds. Carmelo is a midsize tomato with a perfect balance between acidic and sweet while stupice is an open-pollinated deep red oblong tomatoes. Also, the early girl is a deep red fruit with a right combination of sweetness and tomato flavour, which is an excellent tomato for early harvest while enchantment is an oval salad tomato having great taste, but not so juicy.
Beefsteak tomatoes: Beefsteak tomatoes is a large, thick, meaty, heavy fruit that is prized for sandwiches. They need a longer growing season so they may not be suitable for short summer and cool summer gardens. It is further classified into seven types. They are big beef, brandy wine pink, Cherokee purple, Caspian pink, hillbilly, Black Krim, and mortgage lifter.

A beefsteak tomato

Big beef is an early beefsteak variety, which is suitable to grow in colder climates while brandy wine pink is a classic beefsteak tomato having great flavor and taste.
Cherokee purple is a tomato having smoky sweetness whereas; Caspian pink is a classic beefsteak tomato with perfect juiciness and sweetness. Hillbilly is an orange heirloom beefsteak tomato with red stripes through its flesh, almost like a peach. Likewise, Black Krim is large, sweet, reddish-purple fruit while mortgage lifter is a huge red heirloom beefsteak tomato.

Roma (paste) tomatoes: Roma (paste) tomatoes is sweet, firm flesh, high pectin content, not much juice, and few seeds, which is perfect for tomato sauce. It is also further categorized into two types. They are Big Mama and San Marzano.
Big mama is a large paste tomato that is excellent for making the sauce while San Marzano is a heavy fruit.
How to take care of Tomatoes growing in your pot/garden?
Health Benefits of Tomatoes
The use of tomatoes and tomato-based products has been linked to many benefits like heart diseases, skin health, weight loss, healthy blood pressure, constipation, eye health, pregnancy, and prevention of cancer like colon cancer, colorectal cancer, and prostate cancer.
Tomato product has benefits against inflammation and markers of oxidative stress and protects the inner layer of our blood vessels. It also decreases the risk of blood clotting. Lutein and lycopene in tomatoes help in the protection of eye against light-induced damage, the development of cataracts, and age-related macular degeneration (AMD). During pregnancy, tomatoes protect against neural tube defects in infants.
Possible side effects of Tomatoes
Despite the benefits, including tomatoes in the diet has certain risks too. Organic foods may not have overall health benefits as they contain pesticides and insecticides. So. They must be washed properly before eating. Likewise, high potassium foods such as tomatoes should be consumed in moderation when taking beta-blockers because consuming too much potassium is harmful to those people who have impaired kidney function. Consumption of highly acidic food like tomatoes can lead to heartburn and vomiting to those who have gastroesophageal reflux disease (GERD).