Wedding bouquets symbolize faith, valor, wisdom, purity, innocence, etc. The arrangements of flowers for the perfect big day of yours is sometimes confusing. But don't worry, this content will help you. Here are some of the best combinations of flowers to go with for your bridal bouquet. The combination discussed below will captivate people and enhance your beauty.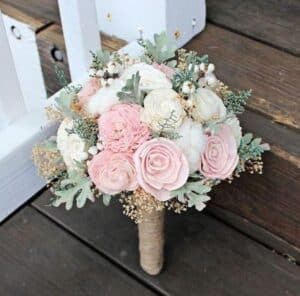 Wedding bouquets of Purple Combination

Flowers are beneficial to beautify the surroundings. Wedding bouquets are one of the essential parts of your wedding. The wedding bouquets specifically, bride bouquet is the integral one which makes the wedding to be precious and unforgettable for the bride and groom too. One of the arrangements that you can do with the wedding flowers for the bouquet is showcasing the purple power. 
The combination of orchids, roses, hydrangeas, and astrantia with minimal foliage to create a sumptuous will eventually give a dreamy look to the wedding bouquet. It would be one of the perfect arrangements for any wedding which is luxurious and also suitable for a glamorous bride.
Wedding bouquets of

Pink Combination
This kind of wedding bouquets is extraordinary for those brides that want little drama and romantic vibes at the wedding. Pink is the color that every girl loves and adores. So, a better combination of flowers can be pink for your special day.
You can combine blush roses, vibrant fuchsia, and a pop of coral in the bouquet which will make your wedding flower look special edition on your wedding. At the centerpiece, you can add two-tone piggy rose and some pearl pins to upgrade the glitz on the bride bouquet. A captivating and gorgeous bouquet of this kind is every bride's dream to have.
Wedding bouquets of

Blue Combination
Something different from the traditional bridal bouquet that you will carry on your special day. Any bride wanting to make their wedding represent newness and uniqueness then this bouquet of the blue color combination will be something that you would prefer.
Include some of the hydrangeas on the aroma with fragrant hyacinths and beautiful delphiniums. It would probably make your wedding more beautiful and let you be the queen of many hearts. Moreover, this blue combination of the bouquet is sure to look picture perfect and make your presence more precious in your special wedding day.
Fairytale Combination
Your fairytale is turning into a reality-based wedding which every woman dreams. You should focus on every detail and every element that complement your wedding ceremony. You need to look at the bridal bouquet that every woman dreams of carrying while walking down the aisle and let everyone is captivated by your presence.
To replicate your fairytale wedding in your bouquets, you can have delicate shades of pink and blue with the ultra-feminine touch with the combination of roses, astilbe. For the elegant look of it, you can add some grey-blue eucalyptus, gold-tipped feathers, and trails of Panicum grass. With this sweet fairytale combo, you are sure to look gorgeous on your big day.
Ombre Combination
One of the trendiest wedding flowers that you can go with for your special day. These kinds of bouquets are beautiful and scene-stealer, and those brides who are fashion-forward chose it. Such combination is also very modern with its traditional vibe. This arrangement of flowers is ranged from the palest pink to the deepest red, which is a blend of vibrant colors. This combination carries the romantic vibe that you can reflect your partner and make it more precious for you two. Eventually, you will look beautiful on your big day, along with this bridal bouquet.
Yellow Combination
Why always have the same bridal bouquet again and again at weddings, you need to have something unique on your big day that represents you and your personality. And going with this bouquet will surely make you different and have that statement wide on the world. The combination reflects the mixture of modern, contemporary, structural ambiance. So, in this bouquet, there needs to be gorgeous sunny Ranunculus, texture Craspedia, and yellow roses.
You may add fresh green carnations and grey foliage to enhance the beauty in the arrangement of flowers. This addition will have a subtle touch to be flowers and make it more charming and exciting. You will find it different than any usual bridal bouquet that you can have in your wedding.
Red Combination
Red is the color of love that needs to be there for your big day. Your wedding is the ceremony where your love fosters and steps on another level. Have these and feel the romantic aroma in the air with this beautiful red bridal bouquet. So for this compact design, have a deep red rose with hypericum berries and burgundy chrysanthemum. And add delicate yet sophisticated touch you can add cymbidium orchids, this will make the bridal bouquet gorgeous than ever.
Having this on your side, during your wedding will convey the message of love and reflect chicness in your wedding. Feel the love with the fragrant roses in your wedding.
White Combination
Pure white color flowers are the traditional bridal bouquets that can never go wrong. You can complement all white-themed wedding by this white bridal bouquet. White combination would be the perfect choice for those who desire to feel the hollywood glamour. Most of the hollywood celebrities' popular choice is this bouquet.
For this arrangement of flowers, you need to have white flowers that look elegant yet chic. For this compact design, you need to have minimal foliage that enhances beauty of the bouquet. This combination can never go wrong because these bright white flowers represent innocent beauty with the touch of sophistication.   
Grand Combination
Grand combination of the bouquet would be an ideal one for the bride who wants to make her wedding have a luxurious feel and style. You will go all in awe when you see this bouquet of gorgeous flowers. This combination has hydrangeas, velvety roses, calla lilies, and orchids; these flowers blend in well by complementing each other in a compact design. Add seasonal fruits and berries as the addition will enhance beauty.

This flower will make you feel the queen of hearts and have the opulent feel. The people around you will surely be jealous of your choice of flowers. You will make the attention go all over you as you take center stage with this grand combination.
Peony Combination 
Peony is one of the favorite wedding flowers that every bride and groom wants have in their wedding arrangements. They can use it for decorations or bridal bouquet. One of the ideal choices for your bridal bouquet, peony can be the scene-stealer for your wedding. For this combination, you need to have peony in the center stage and lilac roses, astrantia to compliment the peony and make a gorgeous bouquet. As peony symbolizes 'happy marriage,' the choice to have it as your wedding bouquet is the ideal one.
Moreover, to those beautiful women starting their new journey of life with their soulmate, this bouquet will make you look prettier and sweeter. This bouquet will also have your feminine touch, letting you be more elegant and dazzling on your big day.