Fries are the best and most loved dish for everybody though it's not healthy enough. Fried food makes our taste buds more crave for good food. Fried food is also fast food that is made within a couple of time and ready to be eaten. Zucchini is much healthier, so its fries can also be as healthier as it is. An easy and quick method of baking the zucchini and enjoying this yummy food at home. It can be good for your children as well.
Zucchini Fries

Zucchini Fries is made with breadcrumbs, flour, eggs, cheese, etc. It is really easy, quick, and a crispy type of food. It is just like turning the French fries example for making this zucchini fries. These are a good side dish, and it can also be a good appetizer as well. To make it crispier, you can also add a double coating in it. It is an Italian dish.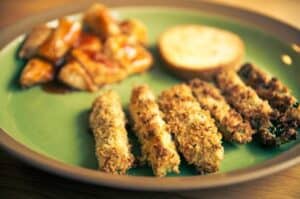 How to make?

You can make zucchini fries yourself in your own kitchen. You need to just to follow the following instructions. Collect all the ingredients that are needed, and start making it.
Ingredients

2 Zucchini (first cut it in half crosswise then cut it in half lengthwise and cut into 4 sticks)

1 cup of breadcrumbs

1/2 cup of Parmesan cheese

1 tbsp of garlic powder

1 tbsp of oregano

Chili powder as needed

1 tbsp of salt

1 tbsp of black pepper

2 eggs

1/2 cup of flour
Methods of preparation
In a bowl, add 2 eggs and whisk it well and leave it.

Add flour in another bowl and leave it.

In the third bowl, add Breadcrumbs, Parmesan cheese, garlic powder, black pepper, salt, oregano, chili, and mix everything very well.

Place a container to bake the dish.

Now, start dipping your stick zucchini inside the flour bowl first, then secondly dip it inside the egg bowl, and lastly coat it with the breadcrumbs mixture.

Place all the coated zucchini inside the container.

Bake for 25-30 min at 220° C and after that it is ready.

Serve it with a tomato sauce.

Enjoy eating that crispy baked Zucchini fries!
Nutritional Values (Serving for 1 plate)
Calories – 83.7

Total Fat – 3.0 g

Cholesterol – 74.1 mg

Sodium – 114.8 mg

Potassium – 216.1 mg

Total Carbohydrate – 9.4g

Protein – 5.1g