Bow Rake is a must-have if you spend quite a bit of time in your garden and your backyard. While an average rake is excellent for light works such as gathering leaves and garden debris, you can take the work a step forward with a good bow rake.  Most people use bow rakes for moving heavier loads as well as leveling gravel. Moreover, if you enjoy gardening, you can get your cultivated soil ready for plantation with a proper bow rake.
When it comes to choosing the best bow rake for you, there are a couple of things you should keep in mind:
How durable is the material used? (Strong Handle?)
Adjustable Rake: How sturdy is the adjustable metal or wooden handle? (Handle Length)
What is the weight of the rake?
Grip/Attachment (Cushion end grip)
Material Used (Durable Materials?)
Now that these things are out of the way so let's get to why you are really here- choosing the best bow rake for efficient raking. If you scroll through Amazon, you will see large quantities of bow rakes from multiple brands (of multiple sizes). And of course, every brand claim to be the best manufacturer of rakes. Well, why wouldn't you?
With paid promotions floating around the internet, buyers often get confused about which product to get. That is where we come in. With collaboration and tips from experts, we have collected the best bow rake that is available on the market that will have maximum durability. You cannot get wrong with any of the garden rakes and shrub rakes below. However, every item has its advantages and disadvantages. So, let's get to it then. Shall we?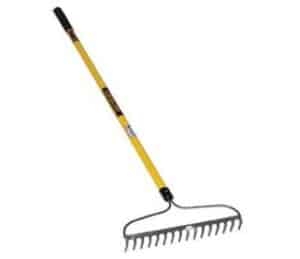 What should you focus on while buying a Rake? (Buying Guide)
High-Quality Handle
How sturdy is it?
A sturdy adjustable rake (high strength) handle ensures that you won't have problems using the rake in any environment.
What are the materials used? (Wood, Metal, Fiberglass, Plastic)
Some hardwood handles lack appropriate strength and crack more easily than handles made from any other material. On the other hand, metal handles are heavy, which can turn out to be uncomfortable to use. Plastic handles and aluminum handles are the most common kind of handles in a rake that provide better control.
How Long is it?
Choosing rakes with proper length is something that most people usually don't care about, which in turn will ruin their gardening experience. Always make sure that the length of the handle is adjustable and comfortable for you.
What is the weight of the handle?
Heavier handles tire you out quickly. A rake's handle must be lightweight and comfortable to hold.
Are their cushions on the side?
Cushions on the side of the metal handle make your raking experience more comfortable and efficient.
Head
The first thing you should keep in mind regarding the rake head you are buying is its length. Additionally, also check if the rake head is forged or welded to the handle. There are versions of rake heads available with steel ferrule. The quality of the wield will determine the durability of your rake. A strong head with maximum strength is a must if you want a versatile rake.
Sturdy Tines
Most of the rakes available today have 14 to 18 steel tines that are placed an inch apart. Be aware of the number of tines that are available on the head and if they are curved. Lack of extra width of the tines will affect the rake's efficiency in tight spaces. Curved tines (metal tines or plastic tines) make the raking more efficient due to better edges.
Grip
For comfortability and greater control, every rake must provide a comfortable grip when moving heavy materials. This is ensured by the rubber or foam on the side of the adjustable handle. Moreover, an excellent grip and adjustable rake also mean you will have more fun using the entire tool.
Price
There are countless rakes available from multiple products on different price range. Make sure that the rake you are getting fits your budget.
These are the products on our list:
Truper 31374 Tru Pro Forged Bow Rake
The Ames Companies 2811600 True Temper Bow Rake
Bully Tools 92309 Bow Rake
Blue Hawk 54.5-in L Garden Rake
LavoHome Garden Bow Rake Wood Handle
WOLF-Garten 1647004 Bow Rake
Seymour Structron Bow Rake BR16
Gardena 3168 Combisystem 14-Inch Metal Bow Rake Head
The AMES Companies, Inc 1881600 Bow Rake
Ames Jackson Pony Bow Rake
Truper 31374 Tru Pro Forged Bow Rake
If you are already familiar with rakes, you have probably heard of Truper. It is one of the leading manufacturers of gardening technologies and has been in the business for 40 years.
The 31374 Tru Pro Forged Bow Rake from Truper is a perfect example of the company's long-running reputation for producing quality gardening tools with exceptional strength. It comes with a white ash handle that is rugged. Going about your outdoor task flows through like a breeze with this one.
The handles come in three sizes- 66-inches, 60-inches, and 48-inches. Moreover, the head which is heavy-gauge has 16 tines. This rake could be an effective solution to your garden debris problem.
Pros:
The handle and head are made from fantastic materials. (Sturdy Construction)
Working on heavy-duty tasks is very comfortable.
Cons:
Weight might be an issue for some. The rake is quite heavy when compared to other rakes on this list.
The Ames Companies 2811600 True Temper Bow Rake
Another product on our list is the Ames Companies 2811600 True Temper Bow Rake. You will find out from the first glance that this product from the Ames Companies is a force to be reckoned with. With 100% steel, the construction of the rake is the first thing you will notice.
Additionally, the end grip and the cushion on the rake provides extra comfort when you are working. From the reviews and testimonies online, it is clear that the 2811600 True Temper Bow Rake will be a fantastic tool for mulching and breaking hard soil. They reportedly provide excellent results.
Pros:
The Head (16 steel tine) is impressive.
The grip makes the rake very comfortable to use.
Cons:
People are not happy with the seller of this product on Amazon.
Bully Tools 92309 Bow Rake
This American made bow rake from Bully Tools is a worthy addition to our list. It has all you ask for in a premium blow rake. The materials used in the product is commercial-grade, the head on the rake has an extra-thick 10-gauge steel material. This provides extra strength and durability to the rake.
The blade has 16 teeth, and you won't have problems using it for raking stones. The handle on this product is made from triple-layered fiberglass. Moreover, the handle is very lightweight, which ensures more ease in using the rake regularly. There are rubberized parts on the handle and the head for shock absorption.
Pros:
The materials on the head are thick.
Very comfortable to use due to the appropriate amount of shock-absorbing properties.
Cons:
There have been several complaints of the rubber grip sliding off from the handle.
Blue Hawk 54.5-in L Garden Rake
The Blue Hawk 54.5-in L Garden Rake comes with a 54.5 inches handle that is sturdy and comfortable to hold. The materials used on the handle is commercial-grade fiberglass (strong material), and the sturdy rake also comes with 14 heavy-duty tines.
There is a six-inch cushion grip on the side of the rake. This non-slip feature also comes in handy for minimizing operator fatigue. Furthermore, the product is relatively lightweight.
What all this means is that the Blue Hawk 54.5-in L is straightforward to recommend. We have also received mostly positive feedbacks from the rake's longtime users.
Pros:
Price is affordable
Ergonomic- lightweight handle.
Cons:
The handle might not be as durable as the head.
LavoHome Garden Bow Rake Wood Handle
Another famous rake in the gardening community is the LavoHome Garden Bow Rake Wood Handle. This rake has a rugged construction, and you can use it for all purposes. The handle (48 inches) is made from wood which is comfortable to use.
The head of the rake has 14 teeth that are rugged steel construction. The rake has mostly received positive reviews from the buyers. People are mostly impressed by the comfortability of the product and its excellent weight.
Pros:
Sturdy build.
Extended durability of the wooden handle.
Cons:
The handle could be a little shorter for some.
WOLF-Garten 1647004 Bow Rake
The WOLF-Garten 1647004 Bow Rake comes with a 13.8-inch head which is made from high-quality materials. Additionally, its head is made from durable steel that ensures longevity.
The teeth on the rake are curved and wide, which makes the use of this product on the soil very effortless. There is no handle with the WOLF-Garten 1647004. However, it goes perfectly with any handles you can get on the market.
Having no handle has its own benefits and demerits. One of the positives is- you can store the rake with no handle easily. On the other hand, you need to search for a separate handle after buying the rake. This can be a hassle for many.
Pros:
Stable and Durable
The steel material on the head is impressive.
Rust-resistant
Easy Storage
Cons:
Seymour Structron Bow Rake BR16
The handle on Seymour Structron Bow Rake BR16 is made from fiberglass plus plastic reinforcement. The materials make the handle extremely strong but very lightweight. Moreover, the handle is 60-inches which is a comfortable length for most people.
The rounded teeth on the Seymour Structron Bow Rake BR16 are robust. We had no problem while using this product in a harsh environment during our review.
Pros:
The Head has extra strength.
Strong fiberglass handle.
Cons:
Buyers from Amazon have had problems with the seller.
Gardena 3168 Combisystem 14-Inch Metal Bow Rake Head
The 3168 Combisystem bow rake from Gardena is an efficient multi-purpose rake. It is ideal for leveling, breaking, and raking. The heavy gauge head on the rake is strong, and it has 14 teeth. The teeth are curved which ensures easy use in gravel, stones, and debris.
You will have to buy handle separately with this product. That is probably the only downside of this product. If you can cope with buying handles separately, you will have no other problems with the Gardena 3168.
Pros:
Durable construction.
Tines are quality
Cons:
You will have to buy a handle for the rake separately.
The AMES Companies, Inc 1881600 Bow Rake
The 1881600 Bow Rake is another product from The AMES Companies on our list. This rake features four tines on the head. Moreover, the head is made from hardwood, and it measures 48 inches.
The rake is lightweight so you won't have problems using it for a longer period.
Pros:
The handle has an ergonomic design.
Lightweight and very comfortable to use.
Cons:
The wood might not be durable in long use. There are several reviews from people who have complained that the handle broke in a very short time.
Ames Jackson Pony Bow Rake
We are ending this article with a product from Ames Jackson. The company is one of the oldest manufacturers of garden tools.
The Ames Jackson Pony Bow Rake is made from commercial-grade construction. The head of the rake is of tempered steel. Additionally, the head has 16 tines, and the handle measures 60 inches long.
Pros:
Impressively shaped design (aesthetically pleasing)
The high-Quality construction of head and heavy-duty tines that are well-designed.
Cons:
The wood handle might not be as durable as the fiberglass or steel handles.
Some Frequently Asked Questions:
What can I use a bow rake for?
A bow rake has versatile uses. Most people use them to collect or get rid of rocks, debris, and gravels. You can use a proper bow rake for breaking compact soil and leveling tasks.
What is better between a plastic rake and a metal rake?
It depends. If the handle is made from metal, there are chances that the rake might collect rust after some time. On plastic rakes, you don't have to worry about rust. Inversely, the plastic rakes will not last as long as the metal rakes.
Will the fiberglass handle on my rake break easily?
No. The fiberglass handles are quite strong and will last you long. However, you might find it difficult to replace a fiberglass handle if it does break.
Are curved tines better?
Yes. Curved metal tines are better at gathering leaves and debris. So, for a regular user, curved tines are better than flat ones. If you mostly work on collecting stones and heavy rocks, then purchasing the flat tines might be the way to go.
Our verdict
As mentioned earlier, every rake has its own advantages and flaws. Consider the buying guide before you make your purchase. Additionally, don't forget to do a little bit of research before you buy any rake for your gardening purposes.
You will not go wrong with any of the reliable rakes listed above. Make a wise decision between the products on the list based on your budget and the frequency of your garden work to choose the ideal option. In addition, also make sure you have all the necessary tools alongside your rake including the gardening gloves, heavy-duty tools, grass clippings, leveling materials, farm tools, and other heavy applications. We hope this article was helpful in some way. Check out our other article on similar products. Its goodbye for now.
Thank you for reading this far! I hope that the information provided in this article will be helpful to you.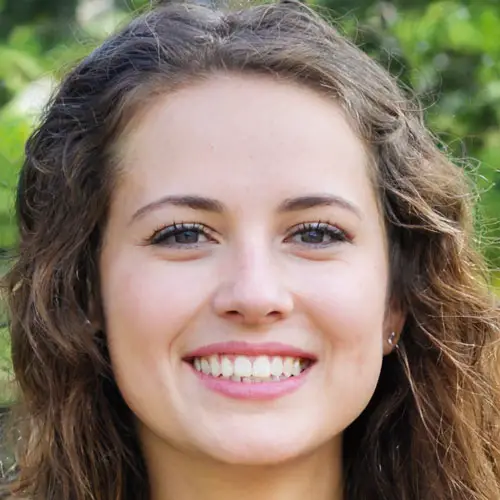 Amelia is a plant and nature lover! Ever since she was little, she loved spending time in her family's garden and learning about how to care for each plant individually. As an adult, she has dedicated herself to sharing what she has learned and continuing to expand her knowledge on the plant kingdom.