It's possible to have a garden or backyard, and it is useful if you have a leaf rake. Although the rake designs are the same, you will need more than one type of rake, depending on the jobs you do. Among the different types of rake, you can use a bow rake for gardening purposes.
What is a Bow Rake?
A bow rake is a tool that you can use in your garden. It has a different shape than an average leaf rake and consists of a handle, the grip, the tines, and the head. The handle is usually made up of metal.
The cushioned grip would be more comfortable to use for a more extended period, and it also allows for fewer cramps on your hand. The tines are short, parallel to each other, and are perpendicular to the long straight handle.
And talking about the head, the head made up of forged steel is the strongest one. Combining all these features, a metal or steel rake is the most durable. The price of the bow rake is around 350 Rs.
Five best bow rakes to buy for your garden
1. Bully tools 92309 16 inch bow rake
It is one of the best quality bow rakes. It uses a tempered steelhead, and the head is firmly welded to a steel wrap that goes through the handle. Its broad head is made using premium quality thick steel.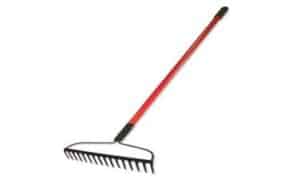 It secures the head. It is more comfortable to use because of its shock-absorbing features. Its massive steelhead makes it challenging to apply for domestic lawns.
2. Ames Jackson pony bow rake with a 60-inch handle
It features a white ash wooden handle, which is more substantial and stronger than other aluminum handles. Having a length of 60 inches, it avoids having a back strain.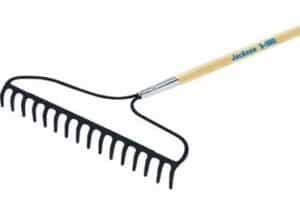 Tempered steel in the head is very strong and durable. The blade can rust, and it lacks a cushioned grip on the wooden handle.
3. Bully tools 92379 16 inch bow rake
It consists of thick 10-gauge steel with a head of 16 inches. The tines are secured to handle with welded 1-beam supports. It is easy to use and lightweight.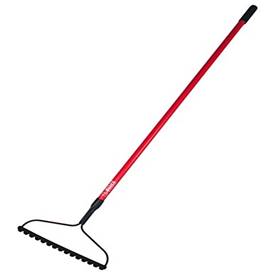 The handle is about 66 inches long and gives a lifetime warranty. The top of the handle has a black rubber grip that can slip while using it.
4. Emsco group workforce 14 tine bow rake
This rake is designed to get the job done without breaking it. The head is of heavy steel with a black powder coating for more durability. A 54-inch handle is durable and light-weighted.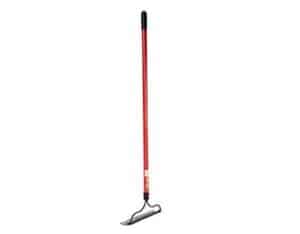 It is affordable, and the powder-coated head is waterproof. This rake performs a massive task.
5. Seymour structon bow rake
Its handle is 60 inches long so that it is comfortable to use. This rake is the perfect one for clearing out beds of rocks. In the handle, there is a cushioned grip that provides better hold and comfort.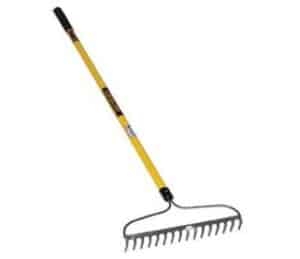 It is strong and has lightweight. It is quite expensive than other bow rakes.
Uses of a bow rake
The primary purpose of bow rake is moving heavier items, or breaking up and spreading the materials for leveling the surface.
You can use bow rakes for removing the fallen leaves from your garden, so people sometimes call it a garden rake.
It can perform heavy jobs like loosening or breaking up hard and compacted soil and creating planting rows.
You can use it for spreading the mud, for weed removal, for tamping soil, for breaking up compacted soil clods, and also for removing roots and rocks from cultivated beds.
What are the Different Types of Rakes?
Garden Rake
Landscape Rake
Thatch Rake
Lawn Rake
Leaf Rake
Leaf Scoop Rake
Shrub Rake: Stone Rake
Can I use a bow rake to dethatch?
There are different types of rakes, but not all rakes are effective for dethatching. A lawn rake, for example, is not ideal for this purpose. A bow rake would be a better option since its open head creates space between the tines to release any debris.
Garden Rake Uses
clean up the lawn
check the ground
rake up the leaves
clean up the garden
get rid of the dirt and stones to prevent weeds from growing
cleanout under old plants and bushes to decrease weed populations and increase air circulation so that plants can grow better
Conclusion
Bow rakes come in many types and designs and many of them can also be used as a garden tool. Most of the bow rakes are not made of steel and tend to be made out of plastic or other materials. However, some people prefer to use garden tools that are made out of steel as they believe that steel is more durable than plastic and other materials. Whichever Rake you choose it will always come in handy.
Resources: