Kaffir Lily (Clivia Miniata) is a species of flowering plants in the genus Clivia of the family Amaryllidaceous. It best suits for an indoor garden as it mostly prefers cold temperature and grows well in shady areas. Kaffir Lily is originally from South Africa, but today it is popular in New Zealand, Japan, China, Swaziland, and the USA. It is also renowned as Natal lily, Clivia Kaffir lily, fire lily, and bush lily though it is not a part of the lily family.
Kaffir Lily
Kaffir lily grows into a large and clumsy plant with a height of about 45 cm (18 inches). It flowers in different colors like red, white, orange, peach, or yellow. The flower sometimes has a faint, but lovely smell and also consists small amount of lycorine (toxic crystalline alkaloid) that makes it poisonous.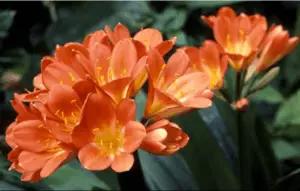 It has wide and arching dark green leaves which is about 2 inches (5 cm) wide that might reach the length up to 18 inches (45 cm).
It is grown outdoors in warmer sites, and most people prefer to grow in landscapes for its attractive evergreen foliage and showy flowers.
How To Grow Kaffir Lilies
Kaffir lilies are slow-growing plants, which typically takes 2 or 3 years to produce flowers and becomes fully mature within five years. You can grow kaffir lilies through root splitting or seeds.
Growing through root splitting
 Use a knife and cut off the side shoots (about 20 cm long)  of the plant from the root ball.
Prepare a mixture of sand and turf in a flower pot and put the stalk on it.
 Pour moderate water into the flower pot.
 Please place the plant in a light place but avoid direct sunlight.
 You can slowly see roots emerging from the substrate. You can re-pot it using ordinary potting soil.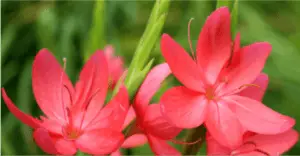 Growing Kaffir Lilies from seeds
You can extract seeds from the ripe berries of the plant.
 Fill a tub with the germinating seeds of lilies.
 Place the germinating seed on the top and press them very carefully.
 Use moderate water. You need a good organic soil that drains well, and change the pot when necessary (after it has flowered) otherwise, do not disturb the plant.
Kaffir Lily Care
You need to consider the following factors to grow and take care of the plant:
Temperature: Kaffir Lily can adjust the temperature from cold to average 60 degrees Fahrenheit (15.5 C) to 75 degrees F (23.8 C).
Light: It grows well in the shade but needs light too. Grow it outdoors but avoid direct sunlight.
Water: Water the plants enough to keep the soil moist within summer, while in winter, water sparingly and allow the soil to become quite dry to get better results.
Soil: Use good organic soil that drains well. You can use peat moss soil, which is better for your plant.
Fertilizer: It requires diluted fertilizer once every two weeks.
Feed the plant monthly with an average household humidity and balanced indoor plant food (high potassium foods).
Insects would rarely bother the plant but if it happens, use pesticides.
Please cut off dying flowers at the base of their stalk if any.
Kaffir lilies is a bulb plant that needs rest for several months during the winter. To save your plant from dying, move your plant to a cool, dark spot during November.
BENEFITS OF KAFFIR LILY
Kaffir lily is a beautiful large plant that you can cultivate as an ornamental plant for its flowers.
It helps to add attraction to your house, office, or garden.
A beautiful flower always refreshes you.
POSSIBLE SIDE EFFECT OF KAFFIR LILY
The flower is poisonous to cats and dogs, but the level of toxicity depends upon the amount of ingestion. It may cause kidney failure in cats.
If ingested, it results in drooling, vomiting, diarrhea, hypotension, tremors, seizures, arrhythmia, convulsions, low blood pressure, and cardiac rhythm abnormalities because of It irritates the skin and internal system as well as cardiac symptoms.