If you are looking forward to an exciting garden project of producing fragrant spring flowers, then you might want to plant Matthiola incana in your garden. Matthiola incana is the botanical name of the stock flower, commonly known as Gillyflower.
What is Matthiola Incana?
Matthiola Incana is also known as common stock or Gillyflower. You can grow it in your garden. The common name of Matthiola Incana is Brompton stock. It belongs to the family Brassicaceae.  It is one of the most fragrant flowers. Its scent is incredibly pleasant, described as sweet and spicy. The stock flower looks good in the vase, so it is natural for indoor arrangements. Stock flower blooms from early spring into summer. The stock flower is found in zone 7 to 100 and has been cultivated to create more sizes and of many color varieties. The Stock Flower plant has oval, toothed or entire, medium green leaves. They need full sun and are easy to grow. For the perfect flower garden, pair the stock flowers with heliotrope and phlox. These three provide an excellent combination for indoor arrangements. Likewise, nemesia is another superb pair of stock flowers for indoor arrangements. These flowers are often harvested for various uses in floral arrangements, flower bouquets, and decorative displays.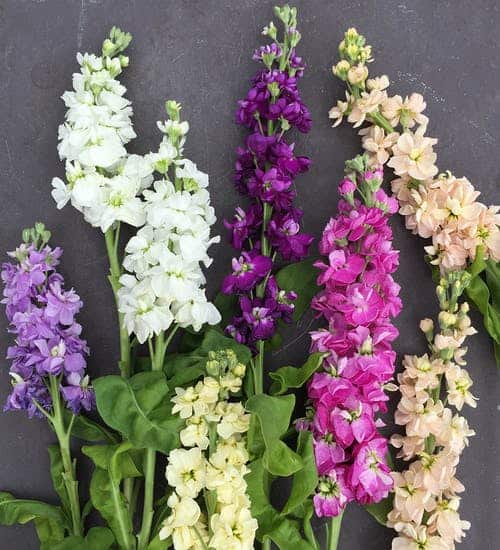 The gillyflower is planted as an annual, biennial, or perennial, based on the region where they will be grown. In cold climatic areas, the stock flowers are planted as an annual. In warmer climates, the stock flower is considered a perennial. Stock can also be regarded as a biennial because it tends to bloom and set seed in its second year. This flower ranges in different colors from the basic shades of white, pink, rose and lavender. Its height varies from 1 foot to 3 feet. There are two varieties of stock flowers. The dwarf variety grows from eight to twelve inches in height whereas the larger varieties grow from two to three feet.
Types of Brompton Stock flower
Starlight Sensation Stock
The starlight sensation stock hybrid grows only up to 18 inches tall. They come up in broad types of colors. You can expect a tremendous fragrant, and single blooms all springs and a few weeks of summer.
White Goddess Stock
It is one of the wide varieties of stock flowers that gardeners can find. They produce a large, sweet-smelling bloom on a single stem of a plant. It comes up in pure-white tint with a yellowish-green center.
Legacy Stock
This variety of flowers grows just two feet tall. They are found in different colors, producing spicy-sweet smell and double flowers. It is a perfect example of why the stock flowers have risen in popularity among all.
Cinderella Stock
The Cinderella hybrid is the dwarf version of the traditional stock flower. It grows no more than 10 inches in height. It is small in size. They are available in a wide range of colors, and this variety of stock flowers are a great choice in the bouquet.
How to grow Matthiola incana?
The stock flower can be planted from both seedlings and seed. When you are planting it from seedlings then, it has a higher success rate. Firstly, the site needs to be selected and well-drained. For cultivation, grow it in a sunny and sheltered bed where the soil is well-drained and neutral or slightly alkaline.
If you want to plant with a seedling, dig out large holes which will be enough to place the seedling. Plant them with 2 inches below the soil and at least a distance of 15 centimeters in between the plants.
If you want to plant from seed, planting in the early season is the best choice. In the initial stage, grow it indoors. Plant the seed in the fertile garden soil or a potting mix, and cover it lightly. Water the plants regularly until the stems begin to germinate. After that, you can water the plant only twice a week. By keeping the distance of 12 inches among each plant, you can transplant the stock flower into the garden. Other than a hot climate, you can plant the stock flower in full sun.
How to care for Matthiola Incana Flowers?
Commonly known as the stock flower, Matthiola Incana flower is easy to care. They do not survive in the high heat of summer, and they bloom in the springtime. This flower should be taken good care.
Some of the steps to care the stock flower are:-
Step 1
A good planting site that receives full sun and light shadow should be selected. The soil must be moist, fertile, and well-drained. Also, the soil should be mixed with an organic compost mixture.
Step 2
While planting the stock flower, the seeds need to be sowed no more than ½ inch deep. For a fully mature size of the plant, space of 12 to 18 inches should be kept, and they need light for the germination process.
Step 3
Water the flower about twice a week. Do not let the soil dry completely.
Step 4
Apply a 1 inch to 2-inch layer of organic material to the soil surrounding the flower. This helps to promote the soil's moisture and protect the roots from the summer heat.
Step 5
The flower should be fed with all-purpose garden fertilizer. It helps to establish themselves in the garden. The fertilizer's instructions should be followed properly for proper dosage and application.
Uses of Matthiola Incana Flowers
The stock flower is edible. The dibble parts are flowers, leaves, and seedpods. The flowers are eaten as a vegetable, or they are used as a garnish.
It is used for the dye purpose also. A dark blue or purple dye is obtained from the flower of the stock plant.
They are used in floral arrangements, flower bouquets, and decorative displays.
In the medicinal sector, an infusion of this flower has been used in the treatment of cancer.
When it is mixed with wine, it has been used as an antidote for poisonous bites.
One of its particular uses is to attract wildlife towards it.