Aloe Vera is the evergreen steam less or very short-stemmed hard plant that grows wild in tropical climates around the world for agricultural, medicinal uses, decorative purposes, and an indoor pot plant. The leaves are thick and fleshy, with w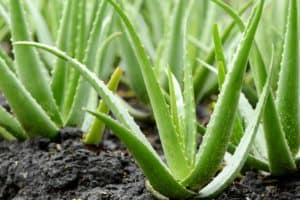 hite flecks on their upper and lower stem surfaces. It also cannot tolerate heavy frost and snow. It is also used in beverages, skin lotion, cosmetics, and to cure burns and sunburns.
Aloe Vera has been widely grown as an ornamental plant as it is popular with modern gardeners as a medicinal plant and for its exotic flowers, form, and taste.
How to grow?
To grow Aloe Vera plant, plant them in a cactus potting soil mix or a regular potting soil that has been enhanced with building soil and make sure that pot has plenty of drainage holes, as the plants cannot tolerate standing water. Also, lights should be proper, as they need bright light. Both cutting method and seedling can grow it. Besides, if you cut off the leaves them, the plant will replace them by developing a new one at the top, but the blades you cut will not grow back.
How to take care of Aloe Vera?
The plants should be watered regularly and fertilized once a year using phosphorous and water-based fertilizer at half strength. Before watering the plant, it should be considered whether the soil is completely dry or not. The plant should not be often watered, and drainage is most. If you watered regularly and did not allow water to pass then your plant may die.
Benefits of Aloe Vera
Aloe Vera is a popular medicinal plant having several benefits on our health. It is widely used in the cosmetic, pharmaceutical, and food industries and well recognized for its thick, pointed and fleshy leaves having slimy tissue that stores water. The slimy membrane is the gel that is used in making products containing numerous benefits.
Likewise, it also contains powerful antioxidant compounds that help inhibit the growth of harmful bacteria. It also helps in healing the burn wounds, treats constipation, anti-aging effects on the skin helps with blood sugar management, reduces dental problems, hair care, cures menstrual issues, and boosts immunity.
The Aloe Vera plant has several compounds like mannans, lectins, and 18 amino acid that are incredibly beneficial for human health. The aloe juice is also a good source of energy.
Products made from Aloe Vera
Cosmetic products:

Aloe Vera Gel
Aloe Vera shampoo – for stronger hair
Sleeping mask – for glowing skin
Hair spray – for hair growth
Makeup setting spray
Body wash – soft and smooth skin
Shaving gel – for silky smooth skin and prevents ingrown hair
Hair growth mask – for longer stronger hair
Eyelash growth serum – improve length and thickness of eyebrows


Medicines
Possible Side effects of Aloe Vera
It is possibly safe when taken in a small dose for short term but unsafe when taken in high doses. It can cause stomach pain and cramps, diarrhea, kidney problems, blood in urine, low potassium, muscle weakness, weight loss, and heart disturbances. It can also be harmful to a pregnant woman can cause miscarriage if you take by mouth when pregnant.