African violet, also known as Saintpaulia is the flowering plant that is typically a common household indoor plant but can also be an outdoor plant. It grows from 6-15 cm tall, and leaves are rounded to oval with a 2-10 cm stalk, finely hairy, fleshy texture, and violet, purple, pale blue or white flowers of 2-3 cm diameter, with a five-lobed velvety corolla. It is highly sensitive to temperature changes. The leaves and flowers consist of vitamin C, beta-carotene, salicylates, essential oil, tastes bitter, and sweet.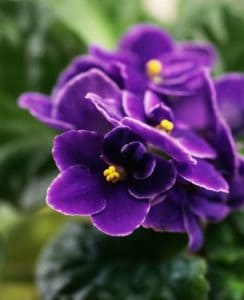 This plant is classified into several sizes. They are micro: less than 3 inches, super mini: 3 to 4 inches, mini: between four and six inches, semi-mini: between six and eight-10 inches, standard: between eight-ten to 12-16 inches, large/giant: over12-16 inches.
How to Grow African Violet?
The most common way to grow African violet is to propagate from the leaves of existing plants. To reproduce, you need a sterilized cutting tool, a thin-necked bottle, and a plastic bag.
After this, select a large and healthy leaf along with 2 cm stem and placed in a container with lukewarm water facing the stem of the leaf into the neck of the bottle.
Now, cover the leaf and top of the bottle loosely with plastic to keep humidity, place in a warm area where the plant can receive filtered light and water properly.
After several weeks, baby African violets is seen.
Alternatively, you can plant the cutting directly into the soil. For this, you need a healthy leaf along with 2 inches of stem, potting soil, and a small pot of clear plastic.
Now, fill the pot with loose potting soil, press the cut stem into the soil and cover the top of the container with plastic. Also, place the container in a warm place and water the plant infrequently. You can also grow the plant with seeds, but this method is not conventional.
Now, for transplantation, you need to observe whether the baby plant is ready or not. If the plant has reached eight to ten weeks or if the leaves are roughly the size of a dime.
After this, choose the right soil for plantation and separate the baby plant from a single parent, as there may be more baby plant. While planting the cutting, remove the soil with your finger to reveal the cut stem and all the babies and trim each one and gently place the plant into the soil, loosely cover the roots as well as water the plant, and place the pot in a warm place.
How to take care of African Violet?
The very first way to care this plant is watering. Whenever the soil feels dry, you need to water them. Secondly, you need to provide plenty of light but not directly. In addition, these plants need many nutrients; that is why fertilizer is a must. A right combination of fertilizer (equal amount of nitrogen, phosphorous, and potassium) is required. The best temperature for this plant is 18 to 24 degree Celsius. Therefore, you need to observe whether the temperature is maintained or not. Below 10 degree Celsius may kill the plant. The level of humidity for this plant is between 40-60%. Hence, you need to monitor temperature as well for steady growth in flower as low humidity causes slower growth. Moreover, it is crucial to change the pot to keep up with the growth of the plant.
Benefits of African Violet
African violet is very beneficial to our health. Millions of people have used the leaf and flower of this plant as an antifungal, anti-inflammatory, and antiseptic agent. Likewise, the flower is eaten as a breath freshener, along with this, it has been used to improve acne, anger, asthma, bronchitis, colds, eczema, fever, fibrocystic breast disease, grief, headache, heartbreak, mumps, urinary tract infection, lymphatic congestion, scurvy, sore throat, varicose veins, and whooping cough.